Chat between Instagram comedian, Nons Miraj and OAP Nedu surfaces amid accusations of an affair with Dino Melaye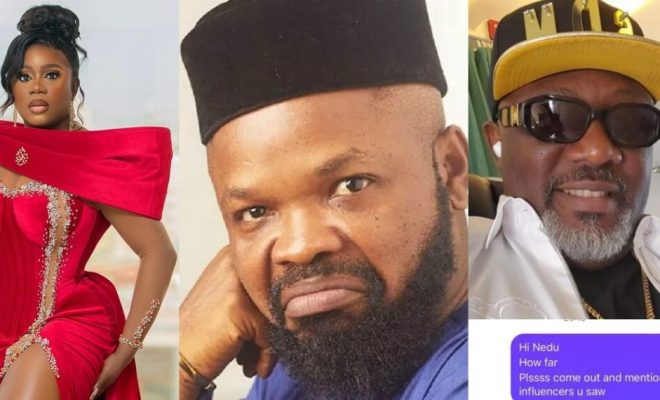 Popular Instagram skit maker, Nons Miraj, has shared her chat with Nigerian media personality, Nedu, to dispel rumours of an affair with politician Dino Melaye.
The alleged "sugar daddy saga" involving Nons Miraj, her colleague Ashmusy, and politician Dino Melaye started when On Air Personality, Nedu, recounted how he caught two famous influencers having threesome with his wealthy friend in Abuja during a podcast.
"I'm super happy" – Justin Dean reacts following ex-wife, Korra's outcry over his suit for full custody of their kids (Video)
Caroline Danjuma ecstatic as she bags MSc in International Law with 4.06 GPA
According to him, he walked in on the popular Internet celebrities having sex with the rich man at the Transcorp Hilton hotel in Abuja, though he concealed their identities.
Amid the buzz, Nedu's revelation stirred, and controversial Instagram blogger Gistlover posted a photo collage of Dino, Ashmusy, and Nons Miraj while hinting at exposing their escapades.
It appears the anonymous blogger's post made many social media users speculate that Ashmusy and her friend, Nons Miraj, are allegedly the ladies Nedu referred to in his podcast.
So to clear their names, she (Nons Miraj) sent a private message to Nedu on Instagram, asking him to reveal the identities of the ladies.
In the chat, she noted that she wants to get married in 2023 and doesn't want anything to deter her plans.
However, reacting to her plea to reveal the identities of the celebrities involved in the group intercourse, Nedu told Nons Miraj to ignore the rumours.
He noted that he deliberately ignored their names for obvious reasons.