I'll work day, night for a better Nigeria, says Tinubu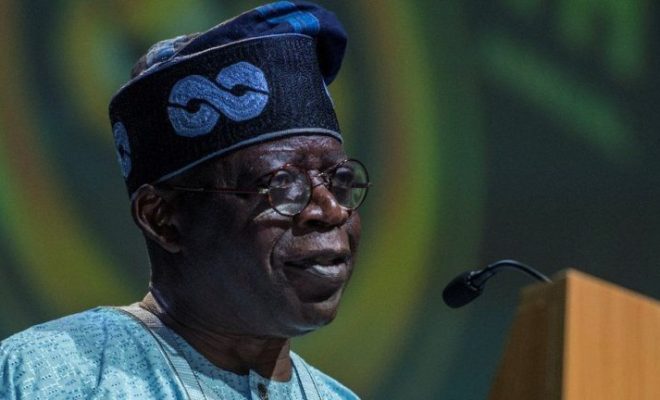 The presidential candidate of the All Progressives Congress, Bola Tinubu, has promised to work relentlessly for the betterment of the country.
Tinubu stated this after he received the Certificate of Return as the President-elect of Nigeria on Wednesday.
The certificate was presented to him by the Chairman of Independent National Electoral Commission, Prof. Mahmood Yakubu, at the International Conference Centre, Abuja.
In the early hours of Wednesday, March 1, Yakubu, declared Tinubu, as the winner of the keenly contested election which was held on Saturday, February 25.
The Peoples Democratic Party presidential candidate, Atiku Abubakar and the Labour Party presidential candidate, Peter Obi came second and third respectively.
In his certificate ceremony speech titled 'To serve the people', Tinubu assured Nigerians especially the youths that he will work day and night to improve the country.
He however, acknowledged that the betterment of the country cannot be achieved alone, urging Nigerians irrespective of political parties to come together to develop the nation.
The President-elect said "To you the people, especially the youths, I will work day and night.  I will work to the utmost of my ability to make Nigeria better.
"For this to be a victory at all,  it cannot simply be a victory for one man or even one party. It must become a victory for all Nigerians who are committed to a greater society.
"To those who did not support me, I ask that you not allow the disappointment of this moment to keep you from realising the historic national progress we can make by joining hands and hearts in common endeavour to pull this nation through.
"In a phrase, I am asking you to work with me.  I may be the President-elect but I need you. More importantly, Nigeria needs you.
"My heart and my door are open to you. I ask you to come in so that we may begin the task of rebuilding our national home together, day by day, brick by brick.
"Where there is poverty, let us create prosperity and jobs. Where there is hunger. Let us feed the people, chasing hunger from their midst.Where there is now scarcity, let us rediscover abundance. Where there is brutality, may we replace it with brotherhood. Where violence stalks the land, may we establish peace. Where others have erected temples to hatred and bias, may we construct permanent monuments to compassion and abiding affection."
Meanwhile, the Economic Community of West African States in a communique congratulated the President-elect, urging aggrieved parties to seek legal redress.
The communique read "On behalf of His Excellency General Umaru Embaló, Chair of the ECOWAS Authority of Heads of State and Government and the entire ECOWAS Leadership, we wish to convey our heartfelt congratulations to His Excellency Senator Bola Ahmed Tinubu on his election as President of the Federal Republic of Nigeria.
"His Excellency General Embaló appeals to all the stakeholders to promote peace and to use constitutional means to address any grievances they may have."