Pregnancy showed me pepper – Mo Cheddah speaks on 3 years of childlessness in marriage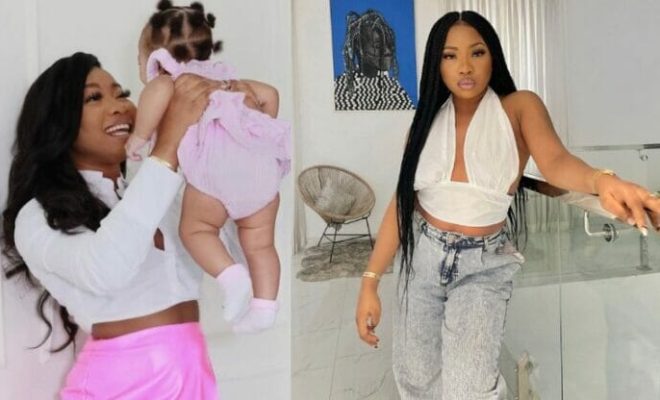 Nigerian musician cum fashion designer, Mo Cheddah, has opened up on her battle with childlessness for 3 years after her marriage.
During a recent appearance on Tea With Tay, the businesswoman opened up about how challenging it was for her to get pregnant, and how pregnancy showed her 'pepper' when it eventually came.
Talking about how she felt when she found out she was pregnant, Mo Cheddah said:
"Let me tell you about pregnancy. That is another thing you think you know, you date, you marry, then comes babies, but baby didn't come after marriage. 3 years. And I was trying! I was ready to go. I had dated this person for years, me I wanted that belle immediately, what are we waiting for? And from that month, I'm looking at myself like "ah ah, what's happening?" But baby didn't come early, and obviously it brought us closer, but it was for me, it was the hardest thing ever. And you're like what's wrong with me? And you're like everybody can do this thing oh. E be like it's me that can't do this thing, what's going on here?
There was a time I was running some tests and I went to the hospital, at this point I was like 29 going on 30, and the nurse looks at me when I was getting dressed like "madam how old are you?" I said, "I'm 29", she said "mscheww, you know when our mothers are begging us to get married early, that's why you're going through what you're going through. If you would have gotten married by like 24, you wouldn't be having these issues". You know me I always have a clapback for anything, I was shocked! That was the first day something held my tongue.
So when my baby came, wow! The joy that was in my heart, I can't contain, I can't explain it to you. I was ready to take on this challenge, I said "yes, this is going to happen". I had planned a trip, said I'm going to travel in two weeks. My sister said "Ah ah, are you sure?" I said what do you mean by am I sure? She said "you're not feeling anyhow?". I said what do you mean am I feeling anyhow, I'm not feeling anyhow, I'll be good. She said "I don't think you will be able to travel", I said "Ah ah, what do you mean? I will travel." 2 weeks after, I just woke up one morning and I felt like I was dying. I thought I was in the afterlife. I was like why do I feel this way? I called up my sister and she was like "yeah, that is morning sickness, now are you still going to travel?" Pregnancy, ah, it showed me pepper!"
The mother of one announced the birth of her child in an Instagram post on Christmas Day.
The singer on November 19, confirmed that she will be having her first child with her husband Bukunyi Olateru-Olagbegi.