Adesua Etomi breaks silence amidst husband Banky W alleged infidelity with singer Niyola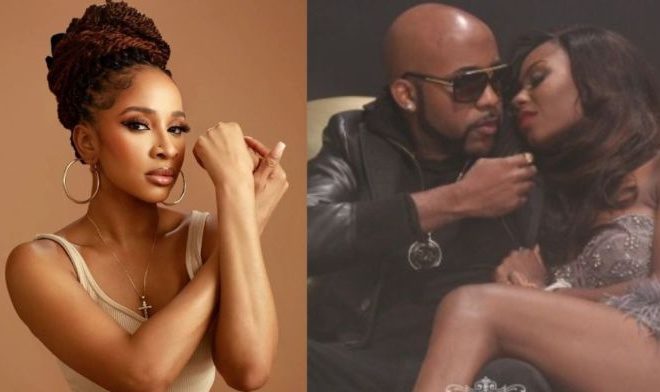 Popular Nollywood actress Adesua Etomi has finally broken her silence amidst her husband Banky W's alleged infidelity with singer Niyola.
Singer Banky W who is now a pastor has been one of the trending conversations online after controversial blogger Gistlover in a viral post claimed that Banky W impregnates his U.S.A side chick.
Many netizens traced the circulating rumour to singer Banky W having an affair with his former signee, Niyola. Also throwback sermon that resurfaces where Banky W was seen supposedly hitting at the act further trends the cheating allegations.
Following the Sunday Service where Banky W remained unperturbed by the cheating allegations about him trending as he delivers a powerful sermon, Adesua Etomi via her official Instagram page, speaks.
While many expected the actress to weigh in and react as regards the trending matter, her reaction was on the contrary as Adesua and Banky W were spotted peppering the naysayers with their display of love.
Adesua Etomi shared promotional video content about Huggies Ultra Comfort Diapers and by extension, Banky W gushes over how Beautiful she is in the clip.
However, Adesua Etomi gives a sweet response as she noted that Banky W really takes good care of her.
Captioning the video of the ad, Adesua wrote; "Introducing the new Huggies Ultra Comfort Diapers! The new ultra comfort diapers is fit for newborns, absorbs wetness in seconds and provides baby with complete skin comfort.❤️ Buy It Today."
Banky W via the comment section of Adeuwa wrote; "I know this is a Huggies ad but ah ahn! Susu of the most High! Susu Sunshine!!! Why so fine? ????????????❤️❤️❤️ @huggiesnigeria una well done o jare."
Responding, Adesua said; "@bankywellington ???????????? Lmaooo. Spinnn me babyyyy. It's cause you take such great care of me????????❤️❤️."
See screenshot of their exchange below;
See reactions below;
kilosbona: No put mouth for married people mata una no hear, cos they go use you knack for bed at night.
rareangel001:  I pity Adesuwa if the news is true and she is trying to cover it up for him ..if it's true A MAN will definitely fuck up her whole being and she will definitely end up in a mental home sooner or later, I pity her sha if it's true.
osfjames:  To everyone that criticize them.. f***k u all… ori nta gbogbo yin… na curse them suppose place on all of you… maybe na one of the enemies of their union pay that b@stard blogger…
skygary1:  E pain some people ooo them daddy freeze be done see waiting e go carry talk ???????? market nor sell ????????.
nsechuqu:  Online in-laws are ready to return to the village.
actual_baddie_burner:  Confuse us until we use minding our business do food ????.
seth_s_jay:  nawa….so dey jst us Idan take dey catch cruise since ????.
benny_lee04:  Chest pain for y'all online in-laws ????????.