Funke Akindele breaks silence on mother's death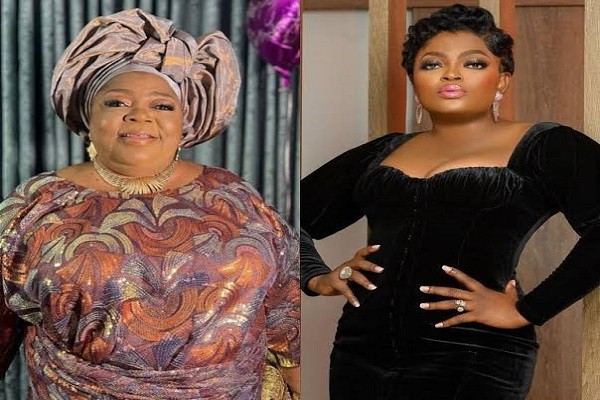 Lagos Deputy Governorship candidate of the Peoples Democratic Party (PDP), Funke Akindele, has spoken about the demise of her mother, Dr. RB Adebanjo-Akindele.
Funke's elder sister, Olubunmi Akindele, announced the departure of Dr. Adebanjo in a statement posted on Instagram on Tuesday, stating that their mother passed away on February 7, 2023.
In an Instagram post, Funke paid tribute to her mom as she recalled how she was encouraged to work hard, be devoted, and selfless.
She remarked that her late mother made a significant impact on the lives of her children and everyone else who came in contact with her.
The "Jenifa Diary" producer added that while her mother's departure hurts, she is proud of her legacy and intends to carry on making her proud.
She wrote: "Mum, you raised me to be very hardworking, dedicated and selfless. You were a blessing to not just your children but everyone around you. You always had a positive impact in the lives of anyone that came across you.
"You taught us the way of the Lord; how to pray, how to serve God and how to commit all things to him. We have the fear of God in our hearts because of how you nurtured us to be compassionate in everything we do.
"You didn't stop at teaching us alone, you further extended this same legacy to your grandchildren by teaching them how to pray too at a very young age.
"Mum, you were very selfless and did everything humanely possible to give us the best life. I want to thank you mum, for raising us well despite the ups and downs.
"Yes it hurts, but I'm happy that your legacy lives on with us your children and grandchildren as well and you're in a better place.
"I'm definitely going to miss you mummy. And I promise I'd never give up just like you always advised. I'll make sure I give my best to anything I do and victory will be my portion in Jesus name. I shall make you proud mum.
"I'm glad you didn't weep over your children. I'm glad you saw your grandchildren. I'm glad you lived a fulfilled life.
"Mum we're not mourning rather we're celebrating a life well lived. May your soul rest in perfect peace. I love you mummy."