May Edochie ecstatic as she receives N5M cash gift from fans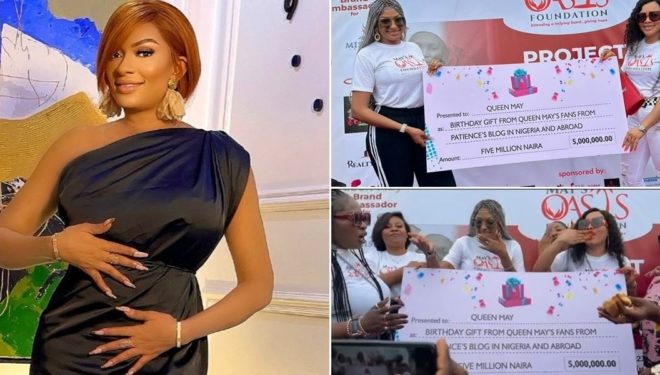 May, the first wife of Nollywood actor, Yul Edochie, recently celebrated her birthday and was profoundly touched by the heartwarming gestures of her fans, who gifted her a whopping sum of 5 million naira.
Notably, May Edochie organized a charity event for her birthday, which saw the attendance of several Nollywood actresses, including Uche Nnanna, Anita Joseph, and Rita Edochie.
Videos shared online captured the moment when May received this substantial cash gift from her fans, in collaboration with actress Anita Joseph.
Overflowing with gratitude, May conveyed that words could not adequately express the emotions she experienced upon receiving this incredible surprise.
She emphasized that she had never met or interacted with any of these individuals in person, yet they bestowed upon her an indescribable outpouring of love.
This act of generosity from her fans, both locally and internationally undoubtedly left an indelible mark on her heart.
Sharing the video, she wrote:
"I was made to understand that @patienceblogs pulled this stunt on her YouTube channel (Patience Blog Official) in conjunction with @realanitajoseph and @bella_jordie
Words cannot describe the moment this awesome surprise came during @maysoasisfoundation PROJECT FEED & EMPOWER A WIDOW! curtesy of @patienceblogs with the help of her followers who are also my big fans @emma.rolland2 , Juliet Ogbo, Georgia Reid , Nancy okpara, Daniella in Germany, Davidgamz and all others not listed.
I've never seen or met any of you yet you show me unexplainable love. Thanks y'all from deep within for this gesture and generosity. May God bless and reward y'all immensely. ????❤️
@cutemisianoskincare I love this kinda conspiracy, keep it up????…. But you can keep a secret tho????."