Top Dog Breeds in Nigeria and Their Prices
Here are some popular dog breeds in Nigeria and their estimated prices.  It is good to keep in mind that dog prices can vary greatly depending on the breeder's reputation, the location, dog's pedigree and age. Prices may also have changed due to the current inflation rate. These are the updated prices as at August 2023.
German Shepherd
German Shepherds are a well-loved breed in Nigeria due to their intelligence, loyalty, and versatility. Prices can vary widely, but you might expect to pay anywhere from ₦50,000 to ₦200,000 or more for a Purebred German Shepherd puppy.
Rottweiler
Rottweilers are known for their strength and protective instincts. Prices for Rottweiler puppies in Nigeria can range from ₦100,000 to ₦200,000 or more.
Labrador Retriever
Labrador Retrievers are friendly, outgoing, and high-spirited dogs. Prices for Labrador puppies can range from ₦150,000 to ₦400,000.
Boerboel
Boerboels are a South African breed known for their loyalty and protective nature. Prices for Boerboel puppies in Nigeria can vary, but they may range from ₦100,000 to ₦350,000 or more.
Bullmastiff
Bullmastiffs are large and powerful dogs, often used for guarding. Prices for Bullmastiff puppies can range from ₦100,000 to ₦250,000 or higher.
Pit Bull
Pit Bulls are strong and affectionate dogs. Prices for Pit Bull puppies may vary, but they can range from ₦150,000 to ₦220,000 or more.
Siberian Husky
Huskies are known for their striking appearance and active nature. Prices for Siberian Husky puppies can range from ₦350,000 to ₦450,000 or higher.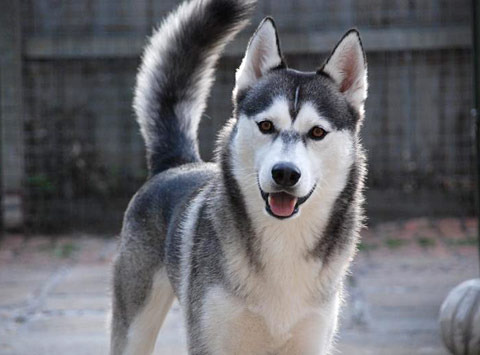 Poodle
Poodles are intelligent and come in different sizes (standard, miniature, and toy). Ideal for children to play with. Prices for Poodle puppies can range widely based on size and pedigree, starting at ₦450,000 and tops at ₦1.5Million
Be sure to buy from reputable breeders or consider adopting from a shelter or rescue organization. Always budget for ongoing expenses like food, grooming, vaccinations, and veterinary care when bringing a dog into your home. Veterinary care should be at least every quarter of a year. You can buy from a healthy pet from reliable pet shop like Pet Shop Naija.