Those that kidnapped me were sit-at-home enforcers – Anambra Native Doctor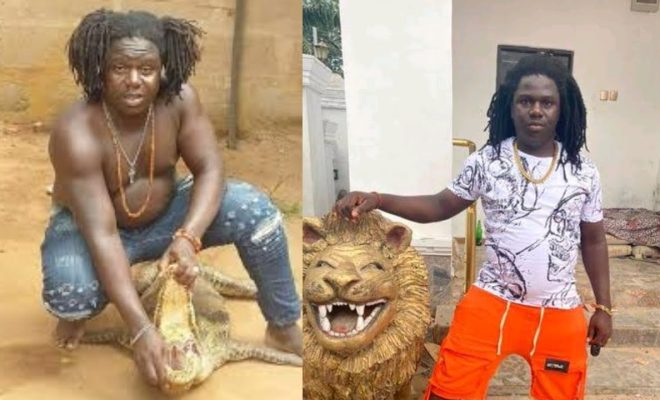 A native doctor, Chidozie Nwangwu, freed by kidnappers in Anambra State, said on Saturday that he witnessed the killing of about 20 other victims by the kidnappers.
He quipped,"This whole thing is related to sit-at-home"
He said his abductors mentioned the names of more people they would kidnap, "but it's not something I can say now."
The native doctor, popularly called Akwa Okuko Tiwaraki, was kidnapped at his Triple P Hotel in Oba, Idemili North Local Government Area of Anambra State at about 11:30 pm on Sunday, July 23.
Narrating his ordeal, Nwangwu disclosed that he would have escaped from the kidnappers' den if he wanted to, but that his abductors would have killed more people if he left.
Recounting his experience in the hands of his abductors, Nwangwu said, "This whole thing is related to sit-at-home and they mentioned names of more people they will take, but it's not something I can say now.
"They killed many in my presence. They killed up to 20 people before me. I did not take anyone's money, they just came to kidnap and their target were people who have money. They wanted to kidnap as many as 50 people from my hotel that day, but I rather followed them."
The native doctor said two of his security men were killed while he was abducted.
He stated, "While I was in the kidnappers' den, I listened to the radio and saw how people were saying all kinds of rubbish, so I decided to set the records straight.
"What really happened was that I was there (at home) that day, at around 11:30pm when someone named Okey Japan called me and said they were at my hotel, and that they were spending money, and had spent close to N300,000, and that they wanted me to be around.
"I obliged them and drove to the hotel in my new car. I was there, and not up to 30 minutes, gunshots rented the air. People started running helter-skelter. I now went out to see what was happening and the people started shooting at me, but you know…
"They killed two of my security men. I don't want to reveal much now, but I know that two things can only save a man. If your charms don't save you, your money will save you. Anyone who has charms should have money. The people took me into their car."
He said if he wanted to run away, he would have done so but that he had seen those that were shot and that if he left, they would kill many people.
Nwangwu said he decided to follow his abductors in order to save people's lives and prove that his hands were clean.