Nkem Owoh called out by in-laws for allegedly abandoning family, resulting in d3ath of 2nd daughter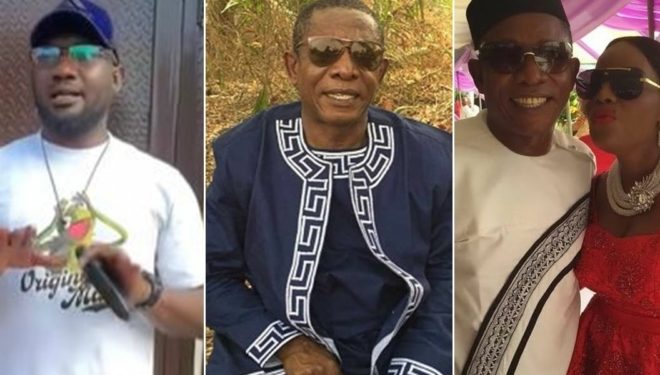 A man has surfaced on social media to accuse the veteran Nollywood actor, Nkem Owoh alias Osuofia of abandoning his family, which has now resulted in the death of his 2nd daughter, Kosisochukwu.
The man who claimed to be an in-law of Nkem Owoh alleged that the actor has been cruel towards his family as he has refused to take on his responsibilities as the head of the family.
Supporting his statement, he shared footage of Osuofia's alleged dead 2nd daughter.
He noted that Nkem Owoh chose to live his life for social media and gave zero attention to his family. The man added that the condition of Nkem Owoh's wife, Ngozi has deteriorated greatly due to the actor's attitude towards his family.
Speaking further, he claimed that prior to Kosisochukwu's death, she begged her father repeatedly on the phone from her sickbed to fly her abroad for treatment but he did nothing until she eventually lost the fight to cancer.
According to him, whenever Nkem Owoh is called to render assistance, he claims he's busy with work (on movie set).
The video was accompanied by a caption that read:
"Osuofia nkem owoo second daughter is dead and he refused to take his responsibility just watch to the end!"
"The mortuary where osuofia daughter is gave only tomorrow to come and take the girl out from the mortuary please share the video so it get to nkem owoo osuofia."
The video generated a lot of reactions from netizens who were disturbed by the development.
@Sugaranky wrote: "Weather social media or not what would be the problem of abounding ur own children to the point of death, but honestly with this incident nkem Owo loss the respect I have for him as a legend, chaiiii what shame."
Maureen Nwafor wrote: "If this is true, it's so shameful. Even if you have issues with your woman, you should never abandon your flesh and blood…."
Suzzy Chidi wrote: "My take on this is that there should be other ways to go about these things instead of coming to social media to broadcast it, I keep asking myself before the advent of social media how were we really resolving matters? These days it's as if ppl take delight in coming to social media to drag ppl and at the same time cash out. Not all issues should be brought to this space!"