Eniola Badmus Opens Up As Tiktoker Who Defamed Her Bags Three Years Imprisonment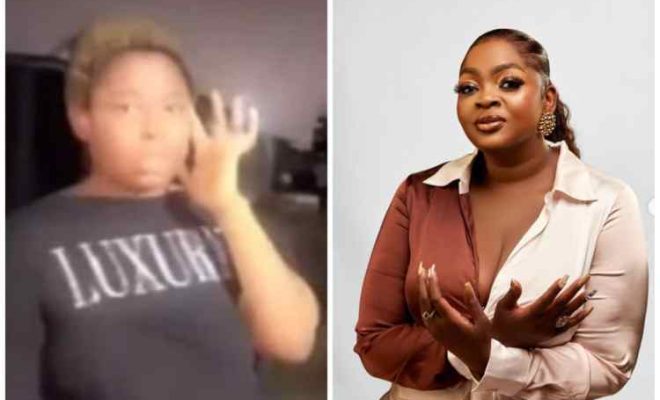 Nollywood actress, Eniola Badmus, has broken silence following the jail sentence of Nigerian TikToker, Okoye Blessing Nwakego.
Recall the thespian had arrested Okoye for claiming she is a pimp and would need to substantiate and prove the allegation in court.
It was earlier reported that Nwakaego was on Wednesday sentenced to three years imprisonment with the option of N100,000 fine by a federal high court sitting in Lagos.
The TikToker was then charged to court on two-count charge bordering on cyberstalking.
Addressing the issue in a post shared on Instagram, Eniola questioned why people would engage in defaming others without facts and evidence.
The movie star also recalled how she was body-shamed because she is plus-size and trolled over the choice of a political party during the election.
She noted that celebrities are human, stressing that oftentimes she ignores such negative comments, but the recent defamation led to the decision to set an example for others.
She wrote: "I will like to address an issue that has been plaguing social media platforms and online communities: defamatory statements about me.
How do you wake up, go on social media and pull people down by making false/negative comments about them and still expect Mercy from God? This is someone you do not even know! Common!
"You have no single fact/evidence but will sit behind your phones and make a smooth video defaming my personality. Why?
"When I was plus size, it was the height of body shaming, now on my fitness journey, same negative comments, when I made my political choice, the same negatives. Guys, let people live their lives and respect them for it. Some of us have muscle to keep it going, how about those that can't and silently struggle with depression and low self-esteem?
We celebrities are human, we have blood running through our veins like you. No one judges your choice or approach to life in your corner, so why judge on personal and human actions?
"More often than not, I ignore these comments or don't even bother reading them but sometimes, it hits badly and you truly and really want to set an example.
"I am aware that defamation is a serious matter and can have severe consequences both legally and socially. It is essential to recognize the impact of our words on others and the responsibilities that come with expressing our opinions publicly. While freedom of speech is a fundamental right, I think it should be exercised responsibly and with consideration for the potential harm it may cause. Above all let's spread love"