Pretty Mike dragged for blasphemy over appearance at Funny Bone's wedding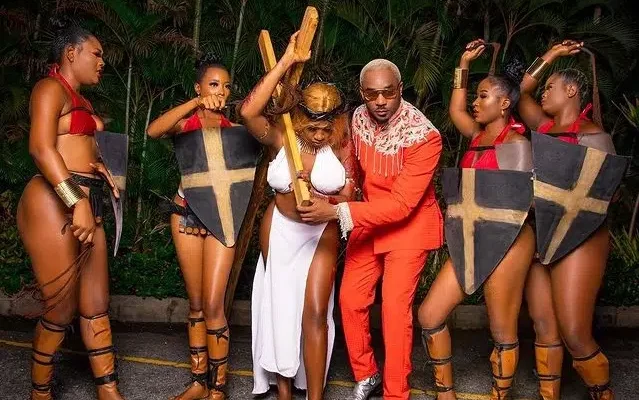 Popular Lagos socialite, Pretty Mike of Lagos, stepped on the toes of believers over his grand entrance at Funny Bone's wedding.
The entrepreneur who is known for his bizarre appearances at big events once again outdid himself with an entourage that depicted Christianity.
Pretty Mike made at the entrance with a female carrying a cross while dressed in a racy outfit — a depiction of Jesus Christ on his way to crucifixion.
The portrayal, however, did not seat well with many believers who condemned him for blasphemy against Christianity.
"This is very wrong and why the fuck is people finding it funny and laughing this is like taking the sacrifice of Our Lord Jesus Christ to be in vain if the show isn't to enlighten people about the sacrifice of Jesus this is very Wrong. If it is Muslim they will find him and he will pay dearly, this is trash," a concerned user said.
This has created a buzz on social media as many dragged him for making fun of the death of Christ.
giftplux : Are you're tryna save the saviour?
coolly_signature : God will surely judge you for everything you are doing
nino_bahama : Blasphemy
nexxconsult : If you do this at my event you will be kicked out
chukzz_lawrence : this is sacrilege… Blasphemy…take this down baba
iam_naya1 : This is very wrong and why the fuck is people finding it funny and laughing this is like taking the sacrifice of our Lord Jesus Christ to be in vain of the show isn't to enlighten people about the sacrifice of Jesus this is very wrong. If it is Muslim they will find him and he will pay dearly this is trash
pxc_m4n : See watin Christian dey do. Dey use woman represent Jesus. Rubbish content if na Muslim una go talk
mr.zamoney : Barbaric act
king_shatta77 : You done see Jesus finish SMH