Banditry: Niger govt bans Okada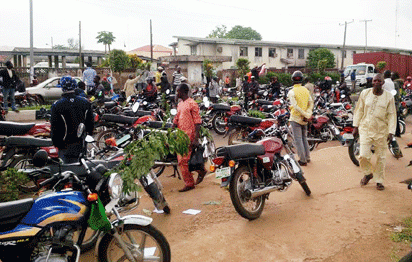 Lingering security threats to Niger State has compelled the Niger State government to ban the use of commercial nd private motorcycles in the state until further notice. But the move has already created serious hardship for both commercial and private motorcyclists, whose only means of transportation has been largely hampered by the government policy and they are not happy with the development.
Government initially restricted the use of motorcycles from 6am to 10pm with the hope that it would reduce the spate of criminality in the state but was forced to slam a total ban when the security situation in the state did not improve. despite the ban, bandits and other malevolent elements were still on rampage, making nonsense of the state government's partial restriction. Under the policy, those who still choose to use their motorcycles, must register them with the state government and obtain specific numbers which can be traced in case of any misuse.
But as it has emerged, the sudden and total ban on Okada has not gone down well with the operators and commuters who are now facing serious challenges in their bid to move from one point to the other in the state. They are calling on government to take steps to cushion the effect of the ban. In response, the state government says it has ordered the purchase of 400 units of tricycles, which interested commercial cyclists and members of the public can buy at controlled rate.
The Permanent Secretary in the Niger State Ministry of Transport, Dr. Ibrahim Garba Musa, said that the purchase of the tricycles had already been approved by the State Executive Council. According to him, the approval is for the procurement of 200 units of Bajad Tricycles and 2200 units of TVS Tricycles at a total cost of N464,100,000 to provide alternative transportation to commuters and also cushion the effect of the ban on commercial motorcycle operations in the state.
Garba said, "Modalities are already in place with the relevant Tricycle Association in the state to guarantee their repayment by eligible beneficiaries as each eligible beneficiary will have to make initial down payment of N65,000 to cover for the commitment fees, vehicle registration, insurance and other fees. Thereafter, each beneficiary is to make a monthly remittal of 60,000 for a period of 18 months repayment. The cost of each Bajad is N1,159,500 while TVS is N1,200,000 and it should be clear that, government is only guaranteeing the purchase, not directly buying for anybody.