Prioritise good governance, Tinubu urges Uzodimma, Diri, Ododo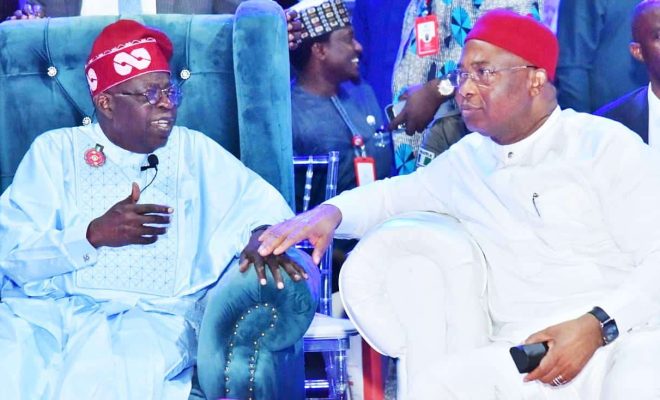 President Bola Tinubu on Monday congratulated Governor Hope Uzodimma of Imo State, Governor Douye Diri of Bayelsa State, and Governor-elect Usman Ododo of Kogi State, on their victory in the November 11 governorship elections.
This was as he cautioned the victors to prioritise governance over partisan politics.
In a statement signed by his Special Adviser on Media and Publicity, Ajuri Ngelale, the President also commended the electorate in Imo, Kogi, and Bayelsa for their participation in the electoral process.
The statement was titled 'President Tinubu congratulates Governors Hope Uzodimma, Douye Diri and Governor-Elect Usman Ododo on election victory.'
It was reports that Uzodimma scored 540,308 votes, defeating the Peoples Democratic Party candidate Samuel Anyanwu who scored 71,503 votes to come second, while the Labour Party's Athan Achonu, emerged third with 64,081 votes.
Ododo won the Kogi governorship election with 446,237 votes, defeating Muritala Ajaka of the Social Democratic Party, who garnered 259,052 votes  while Dino Melaye of the PDP scored 46,362 votes.
In Bayelsa State, incumbent governor, Diri, polled 175,196 to defeat his closest rival, Timipre Sylva of the All Progressives Congress who got 110,108 votes while the Labour Party's Udengs Eradiri polled 905 votes.
To the winners, Tinubu said "May your tenure in office be defined by close collaboration with all of your counterparts across party lines in the attainment of pan-Nigerian developmental achievements that benefit everyone, and may you lead at all times with compassion and a deepened commitment to our nation's unity."
He affirmed the resilience of democratic institutions and the power of the people in shaping the nation's political landscape.
He also reasoned that the outcome of the elections reflects the wishes of the people, saying democracy thrives when voters reward competence, transparency, and good governance.
The Nigerian leader also expressed gratitude to the Independent National Electoral Commission for working to create a level playing field for all contestants and the nation's security agencies for maintaining law and order during the highly-anticipated elections.
He urged INEC to sustain commitment to all efforts aimed at further sanitising the electoral system and enhancing the credibility of future elections.
With the election processes concluded, President Tinubu "anticipates a renewed sense of hope for the people of Imo, Kogi and Bayelsa States, as well as consolidation on progress that will position the states as hubs of peace, commerce, entrepreneurship, and prosperity in Nigeria," said Ngelale.
He tasked the victors to prioritise the common good of the people over partisan interests in the spirit of nurturing a harmonious, inclusive political landscape in the three states.