Luis Diaz's Emotional Plea for His Missing Father after scoring for Liverpool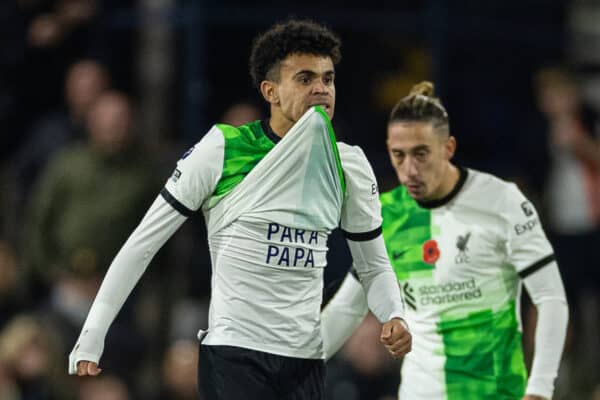 In a heart-wrenching moment, Liverpool's Colombian forward, Luis Diaz, made an emotional plea for the release of his kidnapped father. This moving plea came right after Diaz scored Liverpool's late equalizer against Luton. Let's dive into this touching story of a son's determination and love for his family.
A Son's Desperate Plea
Luis Diaz's world was turned upside down when his parents were kidnapped in Colombia. Despite the emotional turmoil he must be going through, Diaz showed incredible strength and resilience. In a moment of pure emotion and dedication, he dedicated his goal to his missing father by lifting his shirt to reveal a powerful message – "freedom for papa."
This gesture not only showcased Diaz's love and concern for his family but also highlighted the importance of family bonds in the midst of adversity.
As the search for Diaz's father continues, the football community and fans from around the world stand in solidarity with Luis Diaz. His plea has touched hearts globally, and the hope for his father's safe return remains a collective wish.
Let's keep Luis Diaz and his family in our thoughts and prayers as we hope for the safe release of his kidnapped father.
He released a statement shortly after the game calling for his release.
It said: "Mane, my dad, hard working man, family pillar… he's now kidnapped.
"I ask ELN [National Liberation Army] to release my father as soon as possible.
"I also ask the international associations to work on that in order to guarantee his freedom.
"Every second, every minute we're more worried. We've no words to describe our family's terrible feelings and it will be the same as long as he's not back at home.
"I beg you to release my father right now, respecting his integrity. I want to thank to all Colombians and also the international community for your support."
Liverpool boss Jurgen Klopp told Sky Sports: "[It was] a wonderful moment but it doesn't change the situation. The most important thing is that his father gets released.
"It is wonderful he wanted to be here. For us, a super important goal and for him, very important and emotional, but that's it."
Substitute Tahith Chong sent Kenilworth Road into ecstasy when he put the hosts in front from Issa Kabore's cross with 10 minutes of normal time remaining.
But Liverpool dug deep to grab a last-gasp equaliser.
Klopp, 56, added: "Credit to Luton and how they defended and how they set up but it was mainly up to us.
"We had a lot of chances and should have had much more. It is a tricky task to stay fully concentrated.
"Looking at the game I think we didn't deserve more than a point. We could have won the game with the chances we had but now looking at it I think we deserved a point."