'My Legs May Be Amputated,' Bedridden Popular Nollywood Actor, Mr Ibu Cries For Help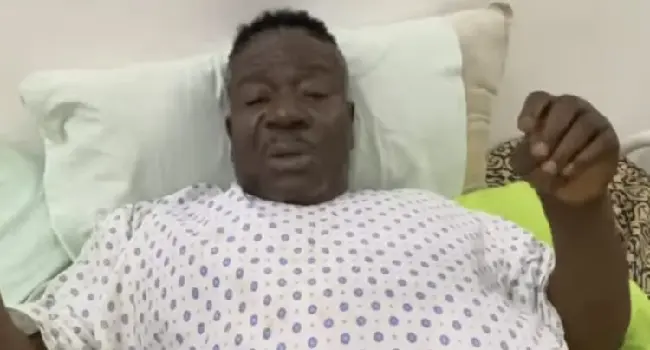 Popular comic Nollywood Veteran actor, John Okafor, popularly known as Mr Ibu, who is currently bedridden has solicited financial help and prayers from Nigerians as he 'stands the risk of having his legs amputated'.
In a video posted on his Instagram page on Wednesday, Mr Ibu who spoke from hospital bed, said he needed prayers as he could lose his legs.
The comedian said his legs may be cut off.
Calling for prayers and financial help, Mr Ibu said, "I have been down for so many weeks. All I'm hoping is your prayers and assistance. As I speak to you, I'm still laying down in the hospital.
"The medical director of this hospital said the best solution, in case his new idea doesn't work, my legs will be cut off.
"If they cut off my legs, where do I go to from here? Please pray for me, talk to God almighty. I don't want my legs to be cut off. Thank you, God bless you."
His wife and daughter also appealed to the public in the video.
His daughter said the actor was in one of the best private hospitals in Lagos.
Pleading for help, she said, "Personally, I've been sorting out the bills, thinking it's something I can do alone. Mummy has been in the hospital; the kids are at home. We thought we could sort it out on our own and he will be fine but he's not getting better. We are at one of the best private hospitals in Lagos.
"This is not the first time Daddy has been down. He had been down, up, down, back on his feet again. So if he's not getting better in one of the best private hospitals in Lagos, I think we need people that will come together, if possible fly him abroad so that he can get better treatment. As a father, he has been fighting, trying to be strong. He wants to live.
"Personally, I'm exhausted. This is the bill they just gave us from the hospital. I am financially drained. I can't do it alone. I need help."
Many Nollywood stars and content creators have reacted to the video with Rachael Okonkwo, popularly known as Nkolika Nwa Nsukka, saying, "God please take control."
Also, popular comedian and skit maker, Sabinus, also known as Mr Funny said, "Your a legend as far as am concerned Daddy!! Money sent and I pray for great recovery."
Another popular skit maker, Emmanuel Ogonna Iwueke, popularly known as Crazeclown, said, "My heart can't take this.
"I pray for healing. We won't have any reason to cry.
"Prayers are important and also whatever you can send will be appreciated. Let's do our own bit and share on our platforms. Nothing is too small. God bless you sir."