I don't like it when girls come for me – Footballer Victor Osimhen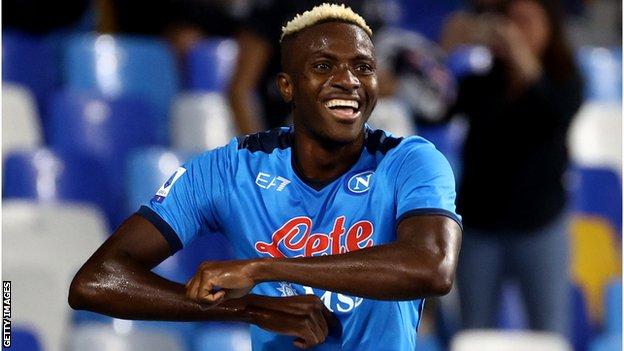 Super Eagles ace Victor Osimhen talks about his love life, and reveals his preference in women.
Nigerian striker Victor Osimhen discussed his taste in women in an interview, revealing that he is put off by female admirers making a move on him, as he prefers being the initiator of romantic relationships.
The 24-year-old is not single, as he is in a relationship with a German woman, Stephanie Ledwig, and they have a one-year-old daughter named Hailey, but he was happy to discuss his romantic preferences.
What Osimhen said
The Napoli forward had an interview with YouTuber Korty eo, where he discussed growing up, his family, and his career, among other things.
Osimhen spoke about his love life and hinted at what seemed like he has had his share of heartbreaks, but he says he is reigned in now and focuses his affection on his daughter.
His dynamics with female interests came up and when he was asked if he regularly gets wooed, he explained that he preferred doing the chasing.
"A lot has happened in my love life and everything but then I have a daughter now so I think she gets all the love now.
"In that aspect, I'm disciplined because I don't want to just have kids all over the place. You know we have to be careful some they want like flock around you because of what you can offer them financially. you guys give yourself brains. When you slack, these people will take advantage of you
"I don't like when girls come for me. I want to like see a girl [and go] ah this girl makes sense like okay now make I approach now this one. I like this type of thing, not the other way around.
"Some guys think it's a flex but it's not a flex. I don't care about looks; if they say table, if you're not bringing anything to the table, I'm not doing anything. I cannot buy a Birkin bag for a girl now; Birkin bag of how much, 100k, and reach my turn, you are telling me a king is born."