"If you still have to edit after BBL then you need your money back " Social media reacts as Bobrisky finally unveils his curvy BBL body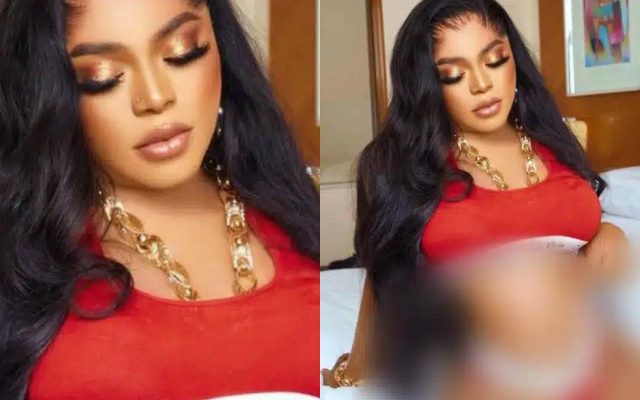 Bobrisky, a Nigerian transgender, comes under fire after finally revealing his much-anticipated BBL physique to netizens.
Time of gist recalls the Lagos socialite having another BBL surgery and promising to flood the Internet with images of his new doctor-assisted curvatures.
His ambitions were thwarted when his father died, prompting him to give up to sorrow.
He has come back from his grief to fulfill his promise to his adoring followers, releasing photographs of his post-BBL-surgery body for netizens to feast their eyes on.
The snapshot he provided shows him wearing a two-piece underwear that strained to cover his physique, leaving plenty to the imagination of netizens.
Check out netizens reactions …
_shara_bby reacted: "E no go spoil for your photographer ohhh,man really sabi editing it's the tiny waist for me"
gasperjustin12 wrote: "Who else saw the effect on the fingers"
Jujuu_girll : If you still have to edit after BBL then you need your money back
asa_nwachinemere_ada : "Na wa oh for him father burial this is not what we saw oh. Thank God for technology oh. Oyigbo use their own winch do better thing we Dey use our own for africa Dey kill each other."
mowalola said: "Baddieeeeeeee"
priscalbeauty : "Una go do surgery still edit picture"
untrainedwriter wrote: "This faceapp and body editing is . . . giving malfunctioned Barbie"
chris2223t : "Omo editing they work for this shemale"