(Photos) Female Evangelist Dies After Sex Romp with Popular Bishop in Abia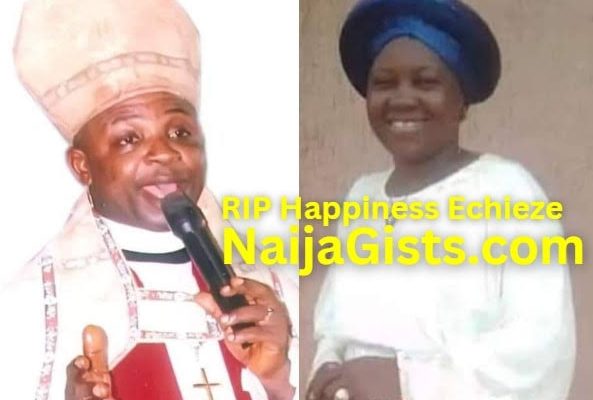 Bishop Otu is held over the death of a female evangelist attached to a Pentecostal church in Aba. The lady reportedly died during suspected rounds of sex at a guest house in Ovom village, Obingwa Local Government Area of the state.
A statement by the Abia State Police Public Relations Officer, Maureen Chinaka, revealed that the deceased female evangelist has been identified as Happiness Echieze, a mother of five.
Chinaka explained that the suspect has been transferred to the State Criminal Investigation Department (SCID) for further investigation into the matter, while the body of the deceased has been deposited at a missionary hospital's morgue in Ogbor Hill axis of Aba.In her account, The PPRO said: "On the 13th of August 2023, at approximately 09:30 AM, Mr Godwin Akpan (male), residing at Jubilee Guest House in Ovom Village, Obingwa LGA, reported to the Isiala Ngwa Police Division that an incident had occurred.
"It was revealed that on the evening of the 12th of August 2023, around 09:25 PM, a clergyman named Timothy Otu (male), associated with Agape Evangelical Ministry at Obikabia Junction in Obingwa LGA, had checked into the guest house along with a woman named Happiness Echieze (female) from Isiala Ngwa LGA, Abia State. Happiness Echieze was 43 years of age.
"Further details provided by Mr Akpan indicated that on the same date, around 12:00 AM, he entered the hotel room of the aforementioned clergyman and discovered the lifeless body of Happiness Echieze.
"She was found unclothed, and a white substance was emanating from her mouth and nose."