Davido is still owing me – Tribal marks model Adetutu alleges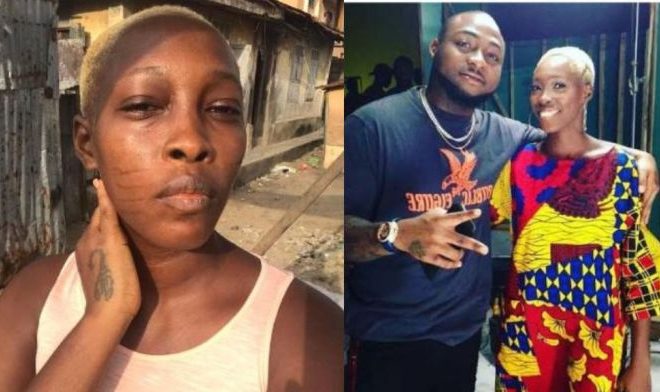 Popular Nigerian tribal marks model, Adetutu Alabi has taken to social media where she calls out superstar Afrobeats singer Davido and accused him of owing him money.
Adetutu hinted that the money she is being owed was for her appearance in Davido's video for his hit song "Wonder woman".
Recall that the nostalgic bop dubbed, Wonder Woman was released by singer Davido on December 7 2018, the song in which Davido praises some special women as well as the women in his life had Adetutu as one of the video vixens.
Note that Adetutu who welcomes a son in December 2021 is known for using social media to create awareness around African tribal markings around the world. Alabi has started the #TribalMarksChallenge on Instagram, calling on people to embrace their tribal markings.
Demanding her acclaimed money, Adetutu via her Facebook page said she doesn't care about about how long the video has been shot, Davido is still owing her and she wants her money back.
She wrote; "Davido is still owing me, I don't care how many years the video is. He's still owing me."
See reactions below;
l.tobiloba: Thank God na money he owe you no be belle he give you. Don't worry, Lati will get in touch soon if evidence dey otherwise you go explain tire.
jeffryprettypretty: Watch people come to insult her on comments section, Davido should pay her if he is truly owing her.
nana_chukwuebuka:  Atleast na money he owe you, no be belle he give you. No worry you will get ur money soon if evidence Dey, if not you go explain tire .
olawaleadekoya: Video director that collected money should be held accountable for that not DAVIDO……
browniwales: Haters always come up with accusations whenever Davido posted huge win???????????? why didn't you say it since . Davido is unavailable.
sweetmotherconfessor: Obviously it's not Davido that is owing , it's definitely the director that reached out to you that is owing. Can y'all just let the young man live ? The person he hired is the one owing.