Davido donates $10k (8.6M) to hotel staff Kekwaaru Ngozi Mary for returning misplaced $70K (N60M) to a customer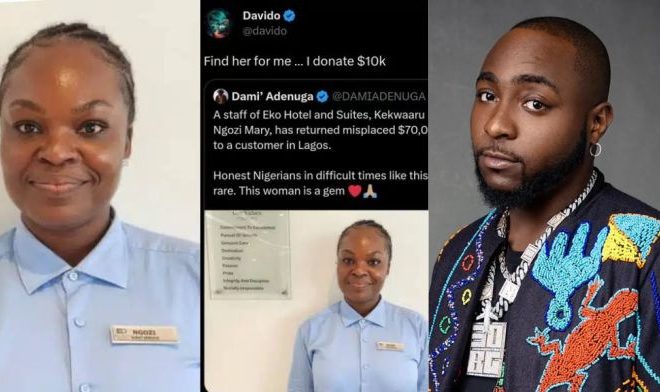 Popular Nigerian singer Davido has decided to reward the honesty and integrity of a dedicated staff member at Eko Hotel and Suites, Kekwaaru Ngozi Mary, with the sum of $10k after she returned $70,000 to hotel management.
In an incident in Lagos, Kekwaaru Ngozi Mary discovered a misplaced bag containing a significant sum of $70,000 in one of the hotel's suites.
Without hesitation, she promptly reported the discovery to the hotel management.
The management, in turn, took swift action and successfully located the anonymous guest who had left the money behind.
The grateful guest was relieved to have their money returned in full, thanks to the responsible and selfless act of Kekwaaru Ngozi Mary.
Upon hearing about this extraordinary act of honesty, Davido expressed his admiration and appreciation on his social media page.
He quoted a tweet on Twitter and pledged to reward Kekwaaru Ngozi Mary with $10,000 for her integrity and exemplary behavior.