Guiness World Records dissociates self from cry-a-thon man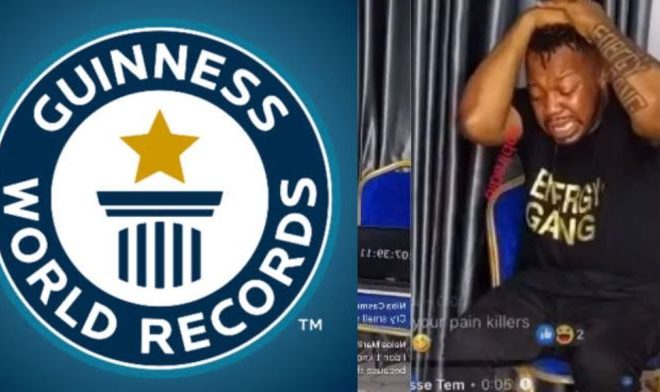 Guinness World Record has reacted to a video of a Cameroonian man attempting to set a record for the longest crying marathon.
It would be recalled that the middle-aged man identified as Tembu Daniel Ebere makes headlines as he begins 100 hrs cry-a-thon in a bid for his name to enter the Guinness World Records book.
Unfortunately, Ebere went "partially blind" for 45 minutes during his attempt.  he also suffered swollen face and puffed eyes.
The comedian added that he had to "restrategise and reduce my wailing".
"I had headaches, a swollen face, went partially blind for 45 minutes and had puffed eyes," he told BBC.
"I had to re-strategise and reduce my wailing."
Taking to the insta-stories section of his official Instagram page, he wrote; "It's not been easy. Was really blind for hours. God saved me. But we must reach 100hrs".
Reacting to this, Guinness World Records via its official Twitter handle said they will never monitor a record for longest marathon crying.
"Just to quell some recent rumours, we wouldn't ever monitor a record for the longest marathon crying. Here's what can be monitored by our team ????."
See reactions below;
iam_rayberry: Nigerians are really stressing this Guinness World Record management ????????????.
mheenarh__: Safe to say he criéd in vain???? Man even went blind at some point????????.
lorianaobiefo:  The GWR was created to strictly hold a pedestal of value, if they accept everything, it will collapse and not inspire future generations to attempt breaking records.
maradona_jay:  Nah crocodile ???? tears he dey cry before , when he read this news he go cry the real cry ????????????.
kim556231: Only a dysfunctional country turns everything to a joke. The leaders have failed them so they become irritated with decency.
fnprincekay: So you actually expected GWR to sit and be watching a full grown man crying for hours when there are great records in the world people are attempting that they've not checked ????.