Federal Government Pleads For Patience Over Fuel Subsidy Removal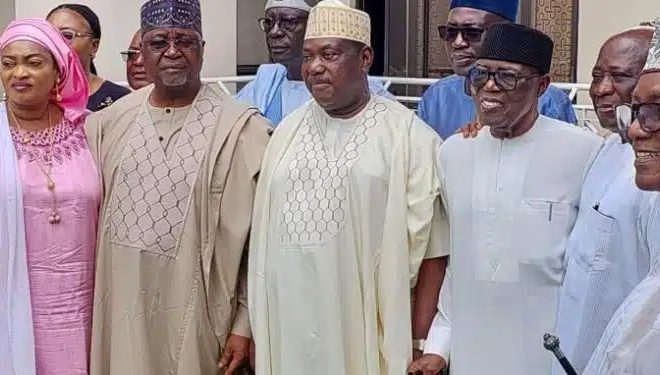 The Federal Government of Nigeria has asked its citizens to endure the hardship brought by the removal of fuel subsidies, promising a subsequent significant enhancement in overall living standards.
The Secretary to the Government of the Federation, Senator George Akume, expressed this sentiment in Abuja on Monday.
He reiterated the commitment of the Tinubu-led administration to Nigerians' welfare while acknowledging the government's fallibility.
"This government will not disappoint Nigerians. The President means well but we can go wrong. When we go wrong, correct us," the SGF told the North Central People's Forum (NCPF) delegation, led by Sardauna Plateau, Senator Jeremiah Useni, during their Monday visit.
Senator Akume highlighted the decisive steps taken by President Tinubu that have positively influenced the national economy, signalling to local and international policymakers the government's seriousness.
The SGF also expressed admiration for the delegation members, many of whom held prominent roles at national and state levels.
He sought their valuable advice and prayers, saying, "I'm very proud to be associated with you all from the home base."
The Chairman of NCDF's National Executive Committee, Eng Sani Ndanusa representing the North Central zone's people, congratulated the SGF on his appointment and wished him a successful tenure.
As the highest political office holder from the North Central zone, Ndanusa encouraged Akume to "take absolute political control of the zone by having quarterly meetings with the North Central Governors Forum, NCPF leadership and with other critical political office holders to discuss developmental strides of the zone."
Ndanusa also described the Office of the Secretary to the Government of the Federation (OSGF) as the government's engine room and urged Akume to attract key appointments to the North Central zone, including capable members of the NCPF.
Among the delegation were former deputy governor of Benue State, Chief Steven Lawani, Ambassador Ayuba Ngbako, Prof Sheni Doknan, Dr Mohammed Santuraki, Amb. Mohammed Mabdul, Hon. Yekini Alabi, Hon Mrs Mary Nwagulu, and the Secretary General of NCDF, Khaleel Bolaji.