Fans drag Odunlade Adekola for abandoning actor Musiliu Ajikanle, who produced "Mufiu Olosha Oko" that made him famous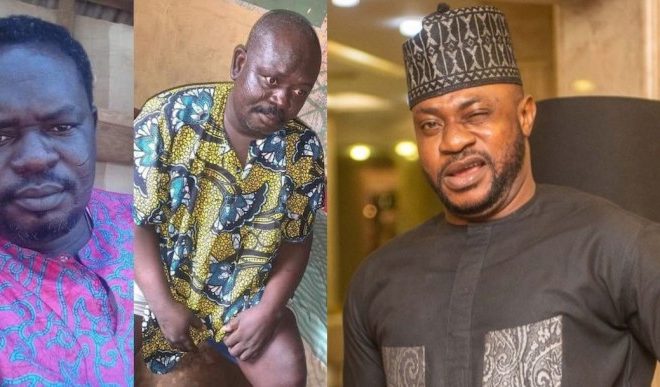 Nigerian actor, Odunlade Adekola, found himself facing a barrage of criticism from fans as accusations of him abandoning veteran actor Musiliu Ajikanle, who has been battling a stroke for the past seven years, surfaced on social media.
Ajikanle, the producer of the highly acclaimed movie "Mufiu Olosha Oko," has been battling a stroke for the past seven years.
He currently living in a bad condition in Ibadan city of Oyo Stat.
Pastor Gabriel who is know for his act of kindness and compassion displayed visited Musiliu Ajikanle in his residence and took it upon himself to initiate a fundraising campaign to support Musiliu Ajikanle's medical treatment and overall well-being.
Reacting to this, fans expressed their disappointment questioning why Odunlade Adekola had seemingly turned his back on the person who played such a pivotal role in his successful acting career.
See reactions below:
– Odunlade can't even ask of him and he the one using this man more
Swear, that was what i told my husband ????
Can't you see…I told my brother same…is he not one that supposed to be doing this…Using the poor man while active and agile,then dumped him when he mostly needed him????????????????
– Pls don't say what you don't have any knowledge about.. Odun and him always met on the job.. Most of the work is not odun adekola's job.. Odun just has the privilege to be a lead role
– Odun and some other people might still be helping out in some areas but igbinyanju le ma to daada ni.
– Did this man said so that odun adekola never asked of him, pls don't let us judge from afar of what we have no knowledge about.
– Pls don't rush to conclusion,, if odun should bless him,,we don't expect him to come on line to show case,,I believe they are getting in touch and doing d little dey can do,,olorun on I je ki a ri aisan