"You will be advertising a product you don't use" – Fans drag Mo-Bimpe for advertising a wealth bracelet. She replies
Nigerian actress Mo-Bimpe found herself facing criticism from fans after promoting a wealth bracelet on her social media platforms.
The wife of Lateef Adedimeji took to social media to share her excitement about a wealth bracelet she had recently discovered.
She caption post with, " Who doesn't like wealth and abundance? no one! This is a sign to get this wealth bracelet from @tonzy_secret and witness the flow of wealth to you, Don't sleep on it, rush over to get yours today"
However, her endorsement of the product did not sit well with some of her followers, who accused her of advertising a product she did not personally use.
One fan wrote, " YOU INFLUENCIAL WILL BE ADVERTISING PRODUCT YOU DON'T USE GOD HELP US ABEG OHH????"
Another one wrote, "Y r they selling it since it brings wealth. Y don't they share it to all their extended families so that people will know the family as the wealth family ????????????…. No work o make wealth Dey follow…..Abi na wetin Oyetola buy be this????"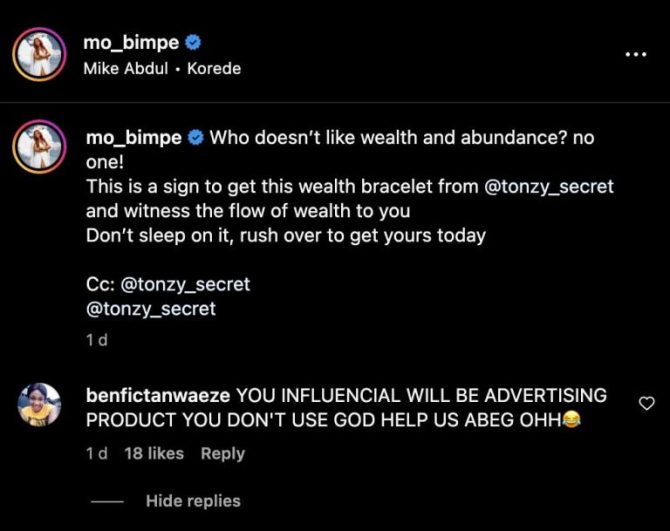 In her response, Mo-Bimpe took to one of the fan comment and wrote," @bellotoheeb185 She's really up to something coming on all posts to drop negative comments. You'll be fine dear @benfictanwaeze"