Tackling plastic pollution leads to healthier environment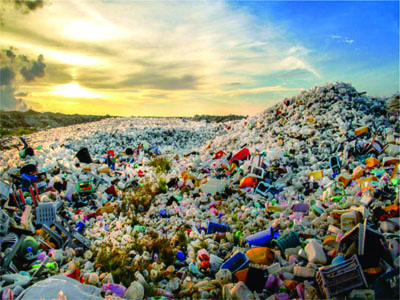 Today, as the world celebrates this year's World Environment Day to sensitise the public to
threats harmful human activities pose to the environment, CHINAKA OKORO writes that governments and international organisations need to take proper steps to control plastic pollution aimed at promoting environmental sustainability for better living conditions
A large sack in which he packs empty plastic bottles is strapped on his back as he trudges to the recycling firm in the Oshodi area of Lagos. Every morning, Gbenga Ashogu, 15, leaves the house as early as 6:30a.m. in search of plastic bottles, which he picks from dustbins, gutters or close to people's homes. He lives with his mother in the Epe area of Lagos.
Having lost his father a few years back, he supports his mother, Seyi, a petty trader, in taking care of his other siblings. This he does through marketing plastic bottles to some companies that recycle plastic containers in exchange for a paltry sum of money. The plastic bottles that litter the environment have become a source of income and sustainability for little Ashogu and his family.
In many parts of Nigeria, especially in the cities, the growing rate of plastic production has raised some concerns among environmental experts who maintain that the trend contributes to waste and pollution issues; it also impacts human health negatively as it threatens oceans and wildlife.
Plastic is used across almost every sector, including production, packaging, building and construction, textiles, consumer products, transportation, electrical and electronics, and industrial machinery. According to environmental experts, an appreciable percentage of disposable water bottles individuals use turn into garbage or litter, a practice harmful to the environment. Experts believe that protecting the environment is the foundation for sustaining the planet, community and economy, adding that failure to protect the environment will put the lives of humans, animals, plants, and more at risk.
This might have informed the United Nations, through its environmental agency, the United Nations Environmental Programme (UNEP) to establish the World Environment Day (WED) in 1973. It is one of the principal vehicles through which the UN stimulates worldwide awareness of the environment in a bid to enhance political attention and action towards giving a human face to environmental issues, empowering the people to become active agents of sustainable and equitable development; promoting an understanding that communities are pivotal to changing attitudes towards the environment and environmental issues, among others.
This year's theme of WED is, "Solutions to Plastic Pollution and Finding Ways to #BeatPlasticPollution." The theme is a reminder that "people's actions on plastic pollution matter. The steps governments and businesses are taking to tackle plastic pollution are the consequence of this action." At the launch of the UNEP report, "Turning off the Tap: How the World Can End Plastic Pollution and Create a Circular Economy," Inger Andersen, Executive Director of the United Nations Environment Programme (UNEP), said that "with the right actions, plastic pollution could fall by 80 per cent by 2040."
Continuing, she said: "The way we produce, use and dispose of plastics is polluting ecosystems, creating risks for human health and destabilising the climate. UNEP's report shows a roadmap to dramatically reduce these risks through adopting a circular approach that keeps plastics out of ecosystems, out of our bodies and in the economy. If we follow this roadmap, including in negotiations on the plastic pollution deal, we can deliver major economic, social and environmental wins.
"The purpose of the day is to sensitise humankind to the threat to the environment due to rising plastic pollution levels and to give a global platform for inspiring positive change in the environment. It will highlight the need to live in harmony with nature by bringing transformative changes – through policies and our choices – towards cleaner, greener lifestyles."
To achieve a drastic slash in plastic pollution by 80 per cent across the globe by 2040, the report suggests first eliminating problematic and unnecessary plastics to reduce the size of the problem. It also called for three market shifts – reuse, recycle and re-orient and diversify products. In the reuse options, which include "refillable bottles, bulk dispensers, deposit-return schemes and packaging take-back schemes, among others, 30 per cent of plastic pollution can be reduced by 2040. To realise its potential, governments must help build a stronger business case for reusable.
"The recycle option," it is said, "can reduce plastic pollution by an additional 20 per cent by 2040. This can be achieved if recycling becomes a more stable and profitable venture." The reorientation and diversification options "carefully replace products such as plastic wrappers, sachets and takeaway items with products made from alternative materials such as paper or compostable materials. This option can engender an extra 17 per cent decrease in plastic pollution."
Healthy environment and SDGs targets
A healthy environment is said to be a crucial contributor to meeting many of the 17 Sustainable Development Goals (SDGs). With about seven years left to meet the target date of 2030, analysts said the world will need to pick up the pace and put greater efforts into finding better solutions to pollution, climate change and biodiversity loss in order to truly transform societies and economies.
Experts are of the view that environmental hazards increase the risk of cancer, heart disease, asthma, and many other illnesses. These hazards can be physical, such as pollution, toxic chemicals, and food contaminants; or they can be social, such as dangerous work, poor housing conditions, urban sprawl, and poverty. These hazards, they say, also present significant threats to the achievement of the Millennium Development Goals (MDGs), especially those related to eliminating poverty and hunger and promoting environmental sustainability.
Nigeria's efforts at tackling plastic pollution
Nigeria has several initiatives to protect its natural environment and endangered species. These include the establishment of national parks and reserves, the creation of the Nigerian Conservation Foundation, and the enactment of wildlife protection laws. Environmental pundits say "Nigeria generates some 32 million tons of waste per year, of which 2.5 million tons is plastic. The country's disposal, recycling and waste management system is very inefficient, with 70 per cent of plastic and non-plastic waste ending up in landfills, sewers, beaches and water bodies."
In an effort to improve plastic waste recycling, the former Minister of Environment, Muhammad Mahmood, said last year that the government had built about 26 plastic recycling plants throughout the country to serve as a pilot project. Again, the Global Plastic Action Partnership has revealed that Nigeria has been in the forefront of global war against plastic pollution ever since the country joined the World Economic Forum's Global Plastic Action Partnership in September 2021. In essence, the country will work with the body to launch a National Plastic Action Partnership, based on a promising model whose principal mandates include creating and working with locally led, locally-driven platforms, such as the Federal Ministry of Environment and the African Development Bank-coordinated Nigeria Circular Economy Working Group (NCEWG).
This is meant to bring together the country's most influential policymakers, business leaders and civil society advocates to deliver a national action plan for radically reducing plastic pollution, connecting high-potential solutions with strategic financing opportunities. Every state in Nigeria has its fair share of environmental pollution. Lagos State, for instance, generates a substantial quantity of waste, especially those that are plastic-related. The state is said to be the heart of Africa's plastic waste problem, which poses health hazards, even though it is also a source of income for many.
On how the Lagos Waste Management Authority (LAWMA) is tackling plastic pollution in the state, the Managing Director, Chief Executive Officer of Lagos Waste Management Authority (LAWMA), Ibrahim Odumboni, has reiterated the commitment of his agency to end the problem of plastic pollution. Odumboni stated this when he led officials of LAWMA and the state's Ministry of the Environment on a field visit to Polysmart, a wholly indigenous multi-million dollar plastic recycling facility, located in Aiyetoro on Lagos-Ibadan Expressway, to explore areas of partnership towards solving plastic pollution challenge in the state and across the country.
Also, the Recycling Manager at the Recycling Unit of LAWMA, Mr Ayobami Akinbulo maintained that "Lagos alone generates between 10,000 and 13,000 tons of waste daily, of which about 50 per cent are recyclables. But most of the recyclables end up in landfill sites. "most of the recyclable end up in landfill sites."
Environmental experts maintain that "human activities affect the environment through their contribution to pollution or the emission of harmful substances into the environment." Pollution can affect soil or waterways and can come from human waste, industrial chemicals and other sources. One such dangerous pollutant is plastic substances which are indissoluble. These pollutants can exert tremendous effects on the natural world, leading to environmental degradation and problems.