Rihanna revealed she's pregnant again during Super Bowl halftime show, reps confirm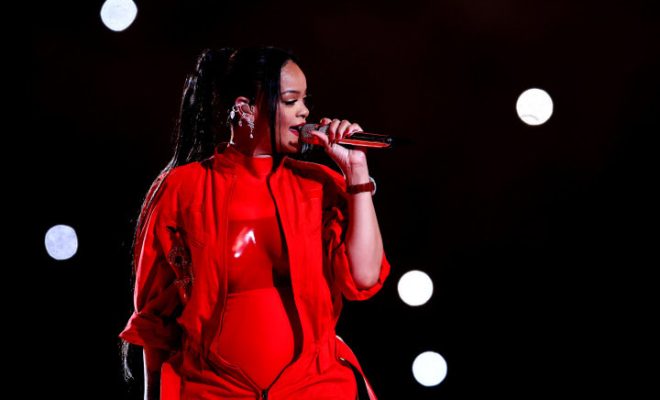 Rihanna is pregnant with her second child with partner A$AP Rocky, a representative confirmed Sunday night.
Following her halftime performance, during which Rihanna, the "Umbrella" singer, donned an all-red outfit, social media was ablaze with speculation that she might be pregnant again.
Rihanna cradled her stomach during the performance, appearing to show off her baby bump.
Both Rihanna's name and the word "pregnant" trended Sunday on Twitter.
She gave birth to her first child in May.
In an interview with CBS's Nate Burleson ahead of her performance, Rihanna was asked whether she planned any surprises for the halftime show. She responded: "I'm thinking of bringing someone. I'm not sure, but we'll see."
Rihanna also told Apple Music that she was three months postpartum with her first child when she agreed to do the halftime show. She credited motherhood with motivating her to say "yes."
"When you become a mom, there's something that just happens where you feel like you could take on the world — you can do anything. And the Super Bowl is one of the biggest stages in the world," she said, adding that even though it was a scary proposition, she found the challenge "exhilarating."
The halftime show performance was praised across social media.
In a 12-minute set, she performed many of her hits, including "We Found Love," "Where Have You Been," "Diamonds" and "Work." She even took a moment to support her makeup line, Fenty Beauty, powdering her face using a compact.
She didn't bring on any guest performers or debut any new songs, as had been speculated.
As far as a new album goes, Rihanna joked about having her fans wait for new music at a Super Bowl news conference. But she acknowledged the next chapter will be different from what she has done in the past.
"Musically, I'm feeling open," Rihanna said. "I'm feeling open to exploring, discovering, creating things that are new, things that are different, things that are off, weird. Might not ever make sense to my fans, to the people that know the music I've put out. I just want to play. I want to have fun. I want to have fun with music."