A plane with 72 passengers crashed in Nepal.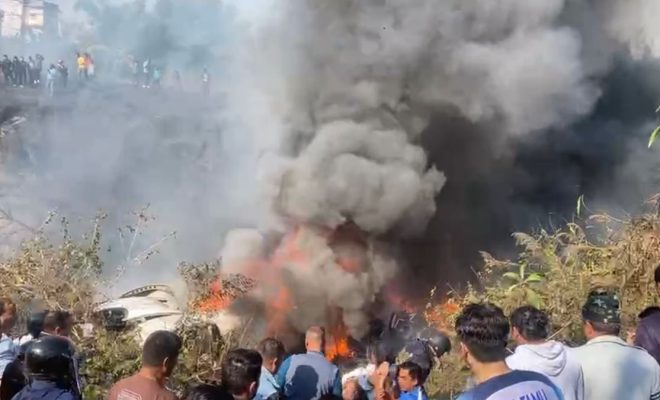 It is reported that the aircraft crashed between the old and international airports in Pokhara. On board the ATR 72 of Yeti Airlines, there were 68 passengers and 4 crew members. Rescuers are working at the scene.
A passenger plane, ATR-72, carrying 72 people onboard, crashed in Nepal's Pokhara on Sunday. The flight was en route from Kathmandu to Pokhara. The plane took off from Tribhuvan International Airport at 10:33 am today. It reportedly crashed ten seconds before landing at the airport and everyone onboard is reported to be dead.
The aircraft crashed into forested land located on the banks of the Seti Gandaki river that flows between the old domestic airport and Pokhra International Airport.
The plane caught fire as it crashed and rescue workers were trying to put it off. The passenger manifest shows 11 of the passengers onboard were international visitors and three of them were infants. The government has called an emergency meeting of the cabinet, following the passenger aircraft crash at Pokhara Airport.