Again, FG suspends work on Lagos-Ibadan Expressway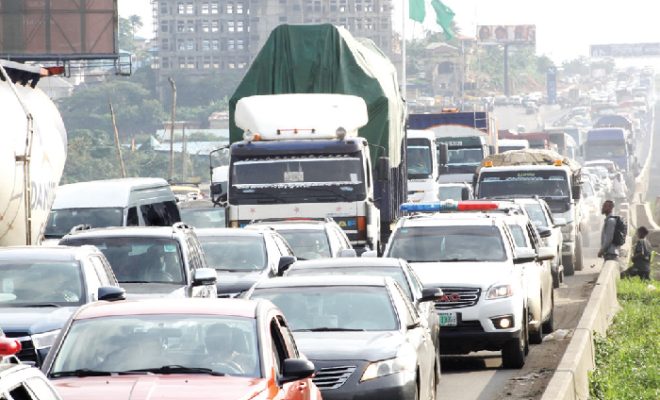 The Federal Government, on Friday, ordered a temporary suspension of construction work on the Lagos-Ibadan Expressway to make travelling experience easier for holidaymakers returning to their destinations after the festive season.
The News Agency of Nigeria reports that Julius Berger returned to site on Tuesday after leaving in December 2022, to continue construction work between the popular Long Bridge and Kara bus stop on the Lagos-bound carriageway.
The contractors' return to site and the resultant gridlock in the area saw commuters groaning on the highway on Thursday. This led the Federal Controller of Works in Lagos State, Mr Umar Bakare, to suspend work and supervise the removal of crash barriers on the highway on the Kara Section on Friday.
Bakare told newsmen after re-opening Section One of the highway to traffic that the measure was to give opportunity for those returning from end-of-year holiday to have better motoring experience.
He said the contractors were able to carry out quick repairs till early hours of Friday before removing the crash barriers in anticipation of huge return journey of holidaymakers over the weekend.
The controller said the contractors would return to site on Monday, Jan. 9, to continue work, and complete work between Kara and Long Bridge within 20 days.
He said temporary repairs were done on some sections in December, and the contractors were able to further upgrade work on their short return in January.
We understand and realise that there are still a lot of people who are still coming back from their various journeys.
"To this extent, we have asked the contractor, after completing that section (Kara), to hold on and remove the barriers to come back next week when we shall come back to complete the other section between Long Bridge and Kara to the final layer," Bakare said.
The Controller said the government would make announcements, carry the public along, and always sensitise the public to the progress of work.
He appealed for patience of road users around construction zones, noting that government was always concerned about their welfare and need for them to have good motoring experiences.
Bakare said the schedule of government to complete the entire project in March 2023 was still on course.
Section One of the Lagos-Ibadan Expressway project stretches from Ojota in Lagos State to the Sagamu Interchange.