"He can't provide financially for the family"- Sina Rambo's wife, Korth announces end of their one-year old marriage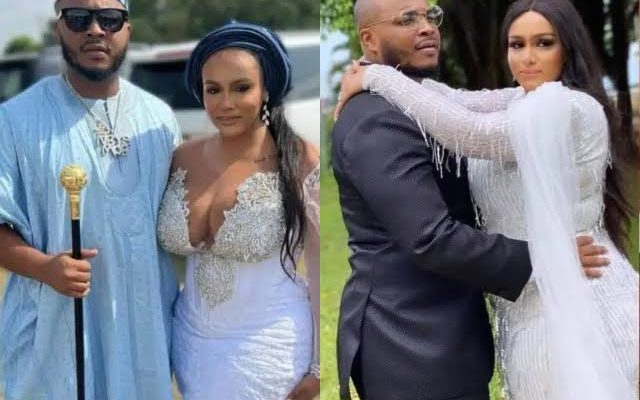 Korth Adeleke, the wife of Governor Adeleke's son, Sina Rambo has continued to drag him and his family, as she announces her marriage has crashed.
The mother of one took to her Instagram story to drag the upcoming singer for being an infidel.
Korth claimed that Sina Rambo can't provide financially for the family and would rather spend his money on weed. To add to it, he was disrespecting her mother.
"I AM TRULY TIRED. NO, WE CAN'T TAKE THIS ANYMORE. HE DOESN'T EVEN RESPECT MY MUM. SHE GO TALK HER OWN LATER! CAN'T EVEN PROVIDE FINANCIALLY FOR THE HOUSE. FRIDGE ALWAYS EMPTY. BUT CAN ALWAYS BUY WEED O. CHAI!! NA ME MUMU SHA!!!
"FOR Y'ALL SAYING KEEP IT PRIVATE THE MARRIAGE IS OVER AND THAT'S WHY I AM FINALLY SAYING ALL THIS. NO I'LL NOT SUCCUM TO ABUSE!! I'M NOT THAT GIRL. IT'S ENOUGH!!".
Korth had hinted at marital crisis as she dragged Sina Rambo for alleged domestic violence.
In a series of posts on her Instagram story, Korth revealed how she had been feeding and taking care of the bills of Sina Rambo. She claimed that the Adelekes wealth is all a facade as she is the breadwinner of their family.
Dragging the upcoming singer and Governor son, she told him to pay her the money he owes her.
Korth, shared a disturbing video of the aftermath of Sina Rambo's violent attack on her. The son of Governor Ademola Adeleke had destroyed her door and inflicted injuries on her.