Dating: "Short men in the mud" – Reactions as Actress Lota Chukwu throws heavy shade at Rapper MI and his colleagues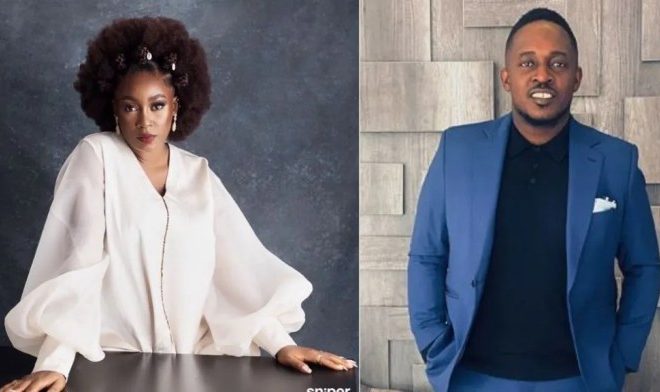 Popular Nollywood actress Lota Chukwu in a post on social media has sparked a lot of reactions among internet after she reveals why she can't date short men in the categories of rapper MI and others.
Taking to her official Twitter handle, Lota Chukwu, a 33-year-old graduate of University of Benin who gained popularity after starring in popular Nigerian TV series, Jenifa's Diary said she can't date a man that his short in terms of height as she disclosed that she loves forehead ki**es.
In the post, Lota Chukwu who is single and does not have any children that do refers to her 4 dogs as her kids uttered that short for her starts from 5'11.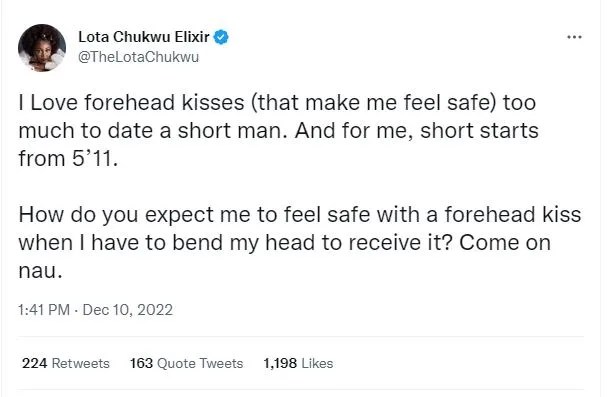 Although, in the Western world, especially the US, most people would consider tall starting at 6′1″/185 cm and up for men and 5′8″/175 cm and up for women.
Backing up her claims, Lota Chukwu in the post rhetorically ask how she is going to be safe with a forehead Ki** when she had to bend to receive it.
She tweeted, "I Love forehead kisses (that make me feel safe) too much to date a short man. And for me, short starts from 5'11. How do you expect me to feel safe with a forehead kiss when I have to bend my head to receive it? Come on nau."
The Lota Chukwu post has generated several reactions among netizens, while some said that's why she hasn't find a husband at her age, others uttered that it's her right to have her own choice when it comes to chosen her preferred man. See below;
ifeomaonye: For me I love to wear heels, not easy being with a short guy especially if he feels uncomfortable whenever you wear heels.
official_______:ameena 5″11 short? Sis how tall are you?
kattygoldmark: My friend bend collect kiss or better still lie down wetin humans want self.
omo.towunmi: No worry short men can also give forehead kisses in bed not just while standing .
ttreasuretreasure: So finding happiness now depends on height some people are dense .
faytheonly: All this unnecessary things you have in your head will stop you from seeing the right man even if he's right in front of you. Imagine losing a good man because of height. lol.
mcteka_: Gather here if you're short and proud .
jones_mil; This is funny until I say my preference now, and then y'all say "stop body-sh@ming women.. you have a mother… women go through so much already". .