Musician Celine Dion leaves many emotional as she has been diagnosed with neurological disorder making it difficult for her to walk and talk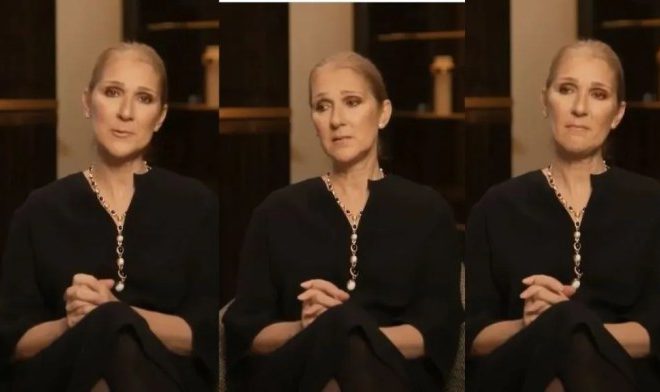 Veteran Canadian singer Celine Dion reveals that she is been diagnosed with a rare neurological called Stiff Person Syndrome in an emotional video to fans.
The 54-year-old made the announcement in videos shared on her official Instagram page on Thursday, where she disclosed that her 2023 shows had been moved to 2024.
She noted that the rare disease, which occurs in one in a million people, had caused her to have spasms that leave her with walking difficulties and that impact her vocal cords.
The "I surrender" crooner said, ""Hello everyone, im sorry it's taken me so long to reach out to you. I miss you all so much and can't wait to be on stage talking to you in person.
"As you know I've always been an open book and I wasn't ready to say anything before but im ready now.
"I've been dealing with problems with my health for a long time and its been really difficult for me to face my challenges and to talk about everything that I've been going through.
"Recently, I've been diagnosed with a very rare neurological disorder called the stiff person syndrome which affects 1 in a million people.
"While we're still learning about this rare condition, we now know this is what's been causing all the spasms I've been having."
The caption of the video read, "Celine Dion reschedules Spring 2023 shows to 2024,and cancels eight of her summer 2023 shows."
Stiff-person syndrome (SPS) is a rare neurological disorder with features of an autoimmune disease.  SPS is characterized by fluctuating muscle rigidity in the trunk and limbs and a heightened sensitivity to stimuli such as noise, touch, and emotional distress, which can set off muscle spasms.  Abnormal postures, often hunched over and stiffened, are characteristic of the disorder.  People with SPS can be too disabled to walk or move, or they are afraid to leave the house because street noises, such as the sound of a horn, can trigger spasms and falls.  SPS affects twice as many women as men.   It is frequently associated with other autoimmune diseases such as diabetes, thyroiditis, vitiligo, and pernicious anemia.  Scientists don't yet understand what causes SPS, but research indicates that it is the result of an autoimmune response gone awry in the brain and spinal cord.  The disorder is often misdiagnosed as Parkinson's disease, multiple sclerosis, fibromyalgia, psychosomatic illness, or anxiety and phobia.  A definitive diagnosis can be made with a blood test that measures the level of glutamic acid decarboxylase (GAD) antibodies in the blood.  People with SPS have elevated levels of GAD, an antibody that works against an enzyme involved in the synthesis of an important neurotransmitter in the brain.