Destiny Etiko's adopted daughter, Chinenye breaks silence on alleged clash with the actress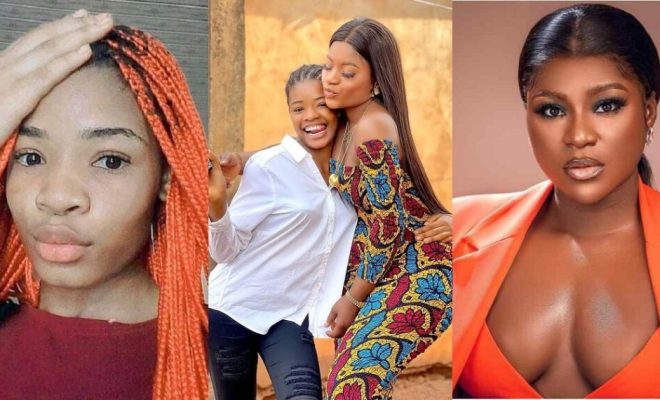 Chinenye Eucharia, the young girl adopted by popular Nollywood actress, Destiny Etiko, has finally spoken up following rumours that she and the actress are at loggerheads.
For weeks now, Destiny and Chinenye have not been seen together, neither have they posted pictures together on their respective social media pages.
This raised several speculations online about the reason behind their alleged clash as netizens wonder why Chinenye, a budding actress being groomed by Destiny Etiko, stopped acting in the actress' production.
Some also accused Destiny Etiko of abandoning Chinenye for reasons best known to her.
In an apparent reaction to the rumours, Chinenye went live on her Facebook page on Monday, December 5, to address her followers and debunk the rumours being peddled online.
She said the rumours are false and that the real reason why she has been offline is because she has gained admission into a tertiary institution and is taking a break from social media to focus on her education.
Chinenye also disclosed that she has decided to put her acting career on hold for one to two years before returning back on screen so she can concentrate fully in school.