mixed reactions as Buhari unveils new N200, N500 and N1,000 notes 
Naira is one of the trending conversations online as the president of the Federal Republic of Nigeria, Muhammadu Buhari finally unveils new N200, N500 and N1,000 notes.
Today, November 23, 2022, Buhari unveiled the new naira notes before the federal executive council (FEC) meeting at the state house, in Abuja.
Godwin Emefiele, governor of the Central Bank of Nigeria (BN), was in attendance during the unveiling ceremony.
Note that on October 26, 2022, the CBN announced a plan to redesign some naira notes, saying the action was taken in order to take control of the currency in circulation.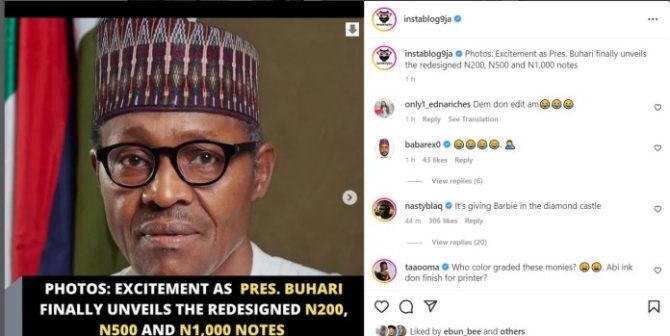 While the new notes have been unveiled today, as from January 31, 2023, the old notes will cease to be legal tender. The newly unveiled naira notes will be in circulation from December 15, 2022, according to the CBN.
However, the new Naira notes have generated mixed reactions among Nigerians including the celebrities as many blast the Nigerian government most especially the CBN over inability to employ expert to redesign the naira notes as they concluded that all they do was just colour grading.
Some also blast the Central Bank of Nigeria governor for using poor quality colours on the new N200, N500 and N1,000 notes.
Popular Nigerian comedian, Greene Apaokagi Maryam better known as Taaooma while reacting to the new naira notes wrote; "Who color graded these monies? . Abi ink don finish for printer?"
Comedian Nasty Blaq writes; It's giving Barbie in the diamond castle.
Actor, Nosa Rex who found the new naira notes as cruise on Nigerians laughed over it as he commented with laughing emojis.
Mofe Duncan said; "New design? They just made it one color fam."
See reactions below;
chefdeee: Naira self dey use filter  see wetin bobrisky cause .
missokhifo: Redesigned how??????? They simply changed color! 1000 note even looks like nollywood fake money that Zubby Micheal use to spray on destiny etiko 
virtuousi: Looks like something I would design with my left hand.
icyy.ann_: Which kain Yeye money be this una want make I mistakenly dash out 200 instead of #10 abi .
cashmere104: This government knows how to enrich itself…Like is this what they spent all that billions of Naira forGod why why in my generation? In a country filled with intellectuals,content creators,artists,smart thinking innovative young men and women,even graphic designers and this is all we could come up with? Who makes these national decisions..Like this is all we could come up with in redesigning our legal tender?A country of over 200m people.
official_wendy__:  Lol wetin be this now,just changed colors,is it because of this thing I broke my kolo 
Uche Maduagwu wrote; The difference is just like actresses who chop Apostolic cake and those who share Apostolic National KUNU, Nollywood actresses who chop cake and share KUNU is all still not Apostolic generosity?.
ezekiel_igwe: Just add colour, like how our mums that year to add to stew to make it red more….. rubbish.
official_mr_piton_: Why don't them produce 5,000 note and 10,000 note it would have reason of redesigning , because I could not see any advantage of redesigning of this currency it is very sad for me don't know about you guys.