There's no gain in having children — Lady reveals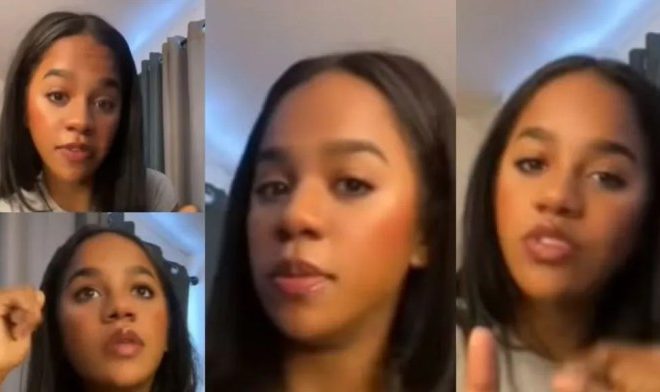 A video has surfaced online where a lady reveals that there is no gain in having children and by extension sparked a lot of reactions among netizens
In the video, the Oyinbo lady explains that one thing she never see herself doing his having kids while stating that she has never wanted a kid in her life.
According to her, she never see any purpose of having kids as she stressed that being a parent is lose upon and never a win-win.
She admitted that giving birth to kids won't bring millions of dollars into her account rather she would have to work harder in order to take care of them.
Speaking further, the Oyinbo lady uttered that she would have carry pregnancy for nine months, undergoes some pains while giving birth to the child and end up working again to feed the kids.
She further added that kids are cute but being a parent is permanent that requires working to take proper care of children and she doesn't see any gain in having them.
See reactions below;
dazzlingada: Motherhood is stressful and u can only enjoy it when ur kids all turn out well cos if not na regret go end am. Las las may God help us raise responsible children who will make us proud and not regret having them.
sbn_michael: It's okay not to want kids  . I don't know why people see it as a big deal Like do y'all want her to bring a kid into the world that she's gon hate ? Have you lived with someone that hated you before ? If you haven't then you're not supposed to insult her…..
derryfabrics: Your choice is valid my dear. Alot of people are depressed today as a result of having kids they can't afford to take care of. If you're having kids just to suffer them then you are not better than her.
mroladare__: Trust me her points are valid. To every man his kettle. Having kids is a whole lot than people see online. You gotta be sure and even being sure ain't enough. You gotta show up every day whether you want or not. 
egoumez: Not everyone wants to have kids, marry, be in a relationship the list goes on. And then when they really old they start regretting .
odipo_grace: Those who want to have kids should respect decisions of those who do not want to have kids. Period. Life is perspective. The fact that you see things in a certain way doesn't mean everyone has to vibrate towards your belief!!!
adeakin19: God bless everyone of them thinking like this. Their government will have to bring in immigrants to address labour shortages. Na there we in the developing world go benefit . Dog mother, cat dad and plant parent people.
seunsparkles: I think we shld leave evryone with their choices. I've actually seen people with grownup kids who are very lonely in their old age, and these r people who sacrificed so much for their kids, at the end of the day do you! if you want kids in life God will grant you, if you don't want its all still good u will still enjoy ur old age too!