Students without PVC might be barred from writing exams – Nigerian lecturer warns
A Nigerian lecturer identified as Maureen Egeonu, has warned students to ensure they retrieve their Permanent Voters Card before examinations begin.
This directive comes few days after the Academic Staff Union of Universities (ASUU) called off its 8-month-long strike.
According to Egeonu, who is also a lawyer, students who do not have their PVCs risk being prevented from entering exam halls.
In a now deleted-tweet, the lawyer also said disgruntled undergraduates are free to report her to the Vice Chancellor of the institution where she lectures.
The tweet reads; "Dear students, Collect your PVC because it might be your identification into exam hall especially my course. You can report me to the Vice-chancellor if you wish. We must get it right this time."
Meanwhile, National President of ASUU, Professor Emmanuel Osodeke, earlier said there are issues in its disputes with the Federal Government which were not well addressed.
The Academic body called off the strike on 14th of October, 2022.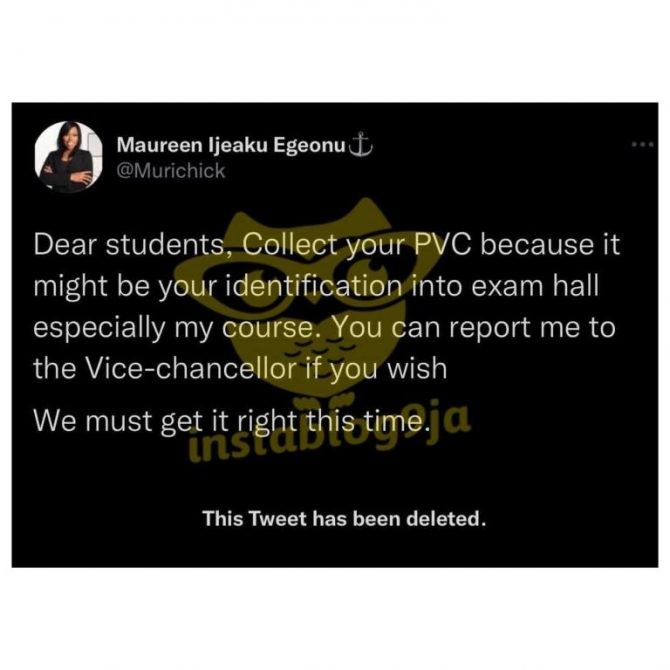 But in a statement on Friday, Osodeke, also noted that the Minister of Labour, Employment and Productivity, Chris Ngige, took the striking lecturers to court.
The statement reads in part; "The National Executive Council of ASUU held an emergency meeting at the Comrade Festus Iyayi National Secretariat, University of Abuja, Abuja, on Thursday, October 13, 2022.
"The National Industrial Court, in its wisdom, gave an order compelling ASUU to resume work pending the determination of the substantive suit. Given the nature of the order, and in the opinion of our counsel, there was the need to appeal the interlocutory injunction granted against our union at the Court of Appeal.
The Court of Appeal acknowledged the validity of the grounds of the union's appeal but still upheld the order of the lower court and ordered our union to comply with the ruling of the lower court as condition precedent for the appeal to be heard. While appreciating the commendable efforts of the leadership of the House of Representatives and other patriotic Nigerians who waded into the matter, NEC noted with regrets that the issues in dispute were yet to be satisfactorily addressed."