IVD's Saga: Instagram takes down Blessing CEO's account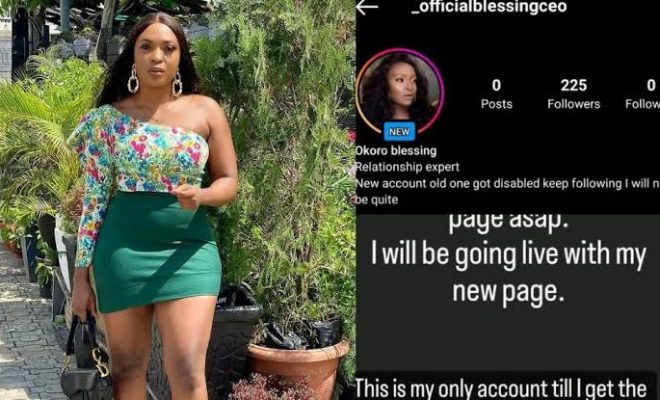 The Instagram account of relationship expert, Blessing CEO has been taken down by Meta, the parent company of Instagram, Facebook and WhatsApp.
The account 'Officialblessingceo' was taken down during her live Instagram session to buttress her point on the innocence of celebrity auto dealer, Ikechukwu Darry Ogbonna better known as IVD, over the death of his wife, Bimbo due to domestic violence.
The mother of two opened a new account and confirmed that her old account was taken down while she urged her fans to follow her new account.
She lamented that Nigerians are dragging her for saying the truth; she noted that the pain she got over the page that was taken down, she will use it to finish everyone as she promised to reveal more about the IVD saga.
However, controversial blogger, Gistlover took to Instagram to counter everything Blessing CEO revealed to fault the late Bimbo over her death.
It was disclosed that Late Bimbo and IVD were both drug addicts and were involved in several shady doings.