NANS Protest: Touts in brisk businesses at Lagos airport as stranded travellers scamper for flights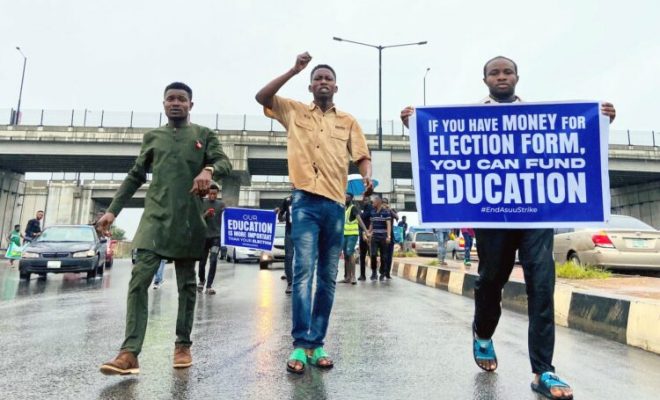 Many who were scheduled to travel via the Muritala Muhammed International Airport (MMIA), Lagos, and its local wing in Ikeja on Monday morning through afternoon suffered what some of them tagged "double jeopardy."
Apart from the heavy rain that brought along flooding and the attendant traffic gridlock, the pain of commuters along the Apapa-Osodi-MMIA Airport road in the city was compounded by the protest embarked on by students of public universities in the country.
The protesters, under the umbrella of the National Association of Nigerian Students (NANS), blocked the road that leads to the international airport while those who wanted to access the local airport through the Mafoluku Road were also caught up by the traffic snarl.
Other road users, including students, workers, and particularly staffers of the airports, also suffered inconveniences as they struggled to get to their destinations.
Many, including foreigners, had trekked long distances while touts who offered to carry their luggage charged exorbitant fares.
Meanwhile, while the police appealed to the protesting students to vacate the road, claiming it is an international route, the protesters remained adamant. They insisted that "even when we leave today, we will be back tomorrow again."
One of the stranded commuters, a government employee, Oyetunji Sunus, said he got stuck in the traffic as early as 8:30 a.m while on his way to work.
Mr Sanusi said: "I have suffered today. This is 2:30 and I am still here. The agitation is worth it but the hardship that it has caused is unimaginable. My appeal to the government is that they should find a lasting solution to this issue.
"The MMIA is a hub in the aviation industry in Nigeria and anything that happens here will affect the entire country because this is where about 60 per cent of the revenue of the aviation industry comes from."
Meanwhile, a pensioner who is also ill, Felix Achonu, was unable to get to the hospital as he was also caught up in the traffic.
"I am on my way to Federal Airport Authority of Nigeria (FAAN) hospital where as a FAAN retiree but my car is parked at the back.
"Look at my body, it is a film of rash and has been hitching me for days. That's why I have to see the doctor," Mr Achonu said.
The 76-year-old man said he had been stranded in his car since morning but that other passersby advised him to speak to the protesting students "if would allow me to move."
An angry commuter, Francis Phillips, said he has been to 88 countries in the world but that Nigeria is the worst he ever lived.
Speaking angrily, he said: "Even the spoon we use to eat here is substandard. I am stranded here and my wife is stranded at the local airport.
"Even in Somalia, it doesn't happen like this. It is a shame."
He said the protest was justified but that the political office holders whom it is meant to affect "don't care."
"They are busy sharing money because they don't know their right from their left," he said.