Reality star, Nina Ivy scolds her son for bullying his classmate on his first day at school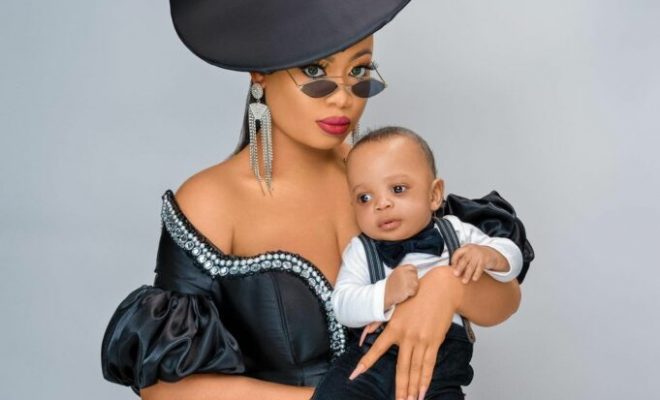 Reality TV star and businesswoman, Nina Ivy has reprimanded her two-year-old son, Denzel, for bullying his classmate on his first day at school.
The Atlanta-based mother of one received a minor incident report from her son's school on Monday, August 22, and it was reported that he pulled his classmate's hair so hard that she fell to the ground.
Following his offence, his teacher had a heart-to-heart conversation with him and told him to stop using brutal force on his friends at school.
After receiving the report, Nina took to her Instagram page to share a picture of the report and asked her fellow moms how to discipline her son.
She then shared a video of herself scolding her son for his action, but Denzel, who was watching TV, was defiant to her words and didn't listen to her.
Her approach didn't sit well with many parents on social media and they advised Nina on how best to talk to her son.
@preshtagram wrote, "Whenever you are ready to have a conversation with him, help me turn off that TV. That child is obviously distracted."
@akanke_fikayomi wrote, "A video of this shouldn't be online. This isn't how to talk to him, he's holding a remote, you're distracting him from whatever he's watching, then you're making a video. This is clearly not how you can get through to him. Omo. Na wa."
@maysdessertng wrote, "She clearly isn't getting through to that child, she needs to put the phone down, get him sit, face him and have a proper conversation with him"
@peachydivaa wrote, "You are not yet serious about teaching him the right tin to do ..continue with ur accent and ur phone"
Meanwhile, Nina has taken the video down from her Instastory.