US property prices hit 33 year high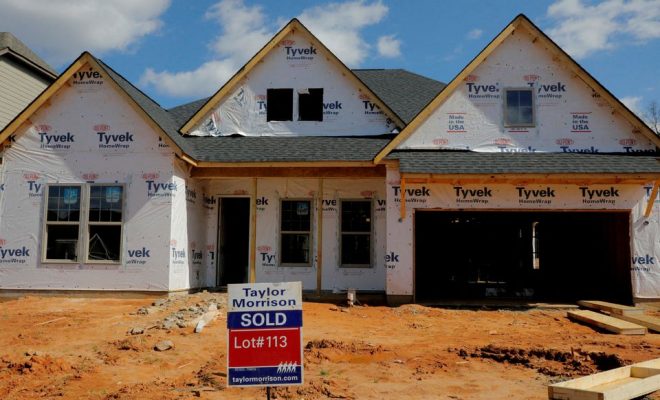 Sales of new U.S. single-family homes tumbled to a two-year low in April, likely as higher mortgage rates and record prices squeezed first-time buyers and those in search of entry-level properties out of the housing market.
The fourth straight monthly decline in sales reported by the Commerce Department on Tuesday added to data last week showing a plunge in single-family building permits in April and continued weakness in sales of previously owned homes in suggesting that demand for housing was cooling.
But the housing market slowdown is likely to be limited by record low inventory. It is the segment of the economy most sensitive to interest rates. The Federal Reserve is raising borrowing costs to dampen domestic demand and tame inflation.
"Activity in the housing market has cooled significantly in recent months along with the recent jump in mortgage rates," said Daniel Silver, an economist at JPMorgan in New York. "While higher rates likely have been weighing on sales, limits in available inventory and high house prices also may be restraining activity."
New home sales plunged 16.6% to a seasonally adjusted annual rate of 591,000 units last month, the lowest level since April 2020. March's sales pace was revised down to 709,000 units from the previously reported 763,000 units. Sales dropped 5.9% in the Northeast and tumbled 15.1% in the Midwest. They plummeted 19.8% in the densely populated South and decreased 13.8% in the West.
Economists polled by Reuters had forecast that new home sales, which account for 9.5% of U.S. home sales, would fall to a rate of 750,000 units. Sales dropped 26.9% on a year-on-year basis in April. They peaked at a rate of 993,000 units in January 2021, which was the highest level since the end of 2006.
Though volatile on a month-on-month basis, new home sales are a leading indicator for the housing market as they are counted at the signing of a contract.
Stocks on Wall Street were lower. The dollar slipped against a basket of currencies. U.S. Treasury prices rose.