Ekweremadu to remain in UK custody till Oct 31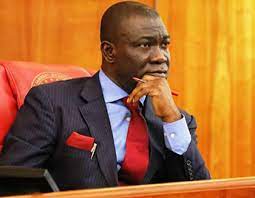 Former Deputy President of the Senate, Ike Ekweremadu, will remain behind bars in the United Kingdom till October 31.
Ekweremadu who appeared in court, Thursday, will be in custody after the judge adjourned the matter to end of October.
Ekweremadu and his wife, Beatrice were arrested in London on suspicion of organ harvesting, an accusation which they denied.
The Nigerian senator first appeared in court at London's Uxbridge magistrates' court, where he vigorously disputed all of the accusations.
After being denied bail, Ekweremadu and his wife were detained in custody, and the case was to continue July 7 and now August 4, 2022.
On July 2, Beatrice, his wife, was granted bail with stringent requirements.
Ekweremadu, who represents Enugu West Senatorial District in the National Assembly, was arrested at the Heathrow Airport from Turkey in June.
He was in possession of a diplomatic passport with questions bordering on whether the case contravenes the Vienna Convention and Diplomatic Immunity