"Stop exposing children to sexuality"– Laide Bakare berated by make up artist for allowing kids play with her bum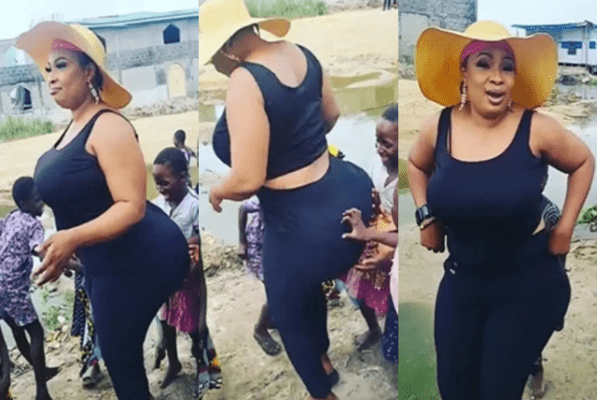 Nollywood actress, Laide Bakare has been called out by a Make up artist over the way she allowed some children to touch her stuffed up butt.
The atress shared a video on IG, showing moments, she stuffed her butt up to make it look bigger and funny which caught the attention of some kids who excitedly chased her around to have a feel of the stuffed butt.
Bakare who enjoyed the attention of the kids danced round to entertain them as they played with her butt.
She shared the video saying, 'I love kids, so much ya Allah i want more "
The video stirred up negative reactions from displeased fans. One of which was from a make up artist, named Esther Badmus who called her out for exposing the kids sexually.
"EXPOSING KIDS TO SEXUALITY SUCH THAT THEY SEE IT AS A NORM AND GO BACK HOME TO BE HITTING THE BUTTOCKS OF THEIR MATES", ESTHER WROTE.
Reacting the actress who wasted no time in slamming her saying;
'@GBEMMYGLAM_MUA YOUR LIFE IS OBVIOUSLY A MISERABLE ONE. I WON'T BLOCK YOU NOW. YOU ARE CLEARLY NOT A FAN. ANYWAY. KEEP ENJOYING YOURSELF ON MY VERY UNIQUE AND INTERESTING PAGE.', BAKARE WROTE