Photos: Mass Burial of victims of the Owo Catholic Massacre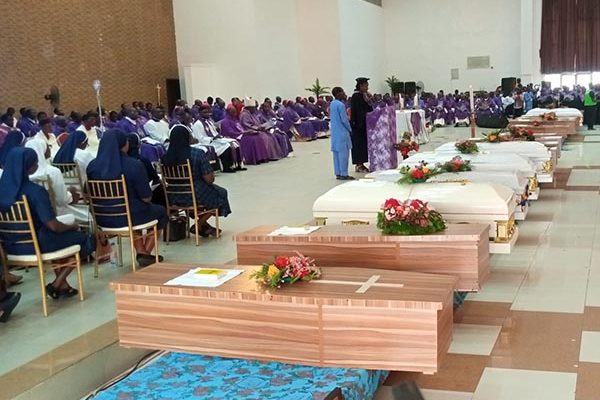 13 days after one of the worst terror attack in the South West by masked gunmen at Saint Francis Catholic Church, Owo, Ondo State, a state funeral mass for the deceased victims was organised.
At least 40 persons were murdered defenselessly on June 5 when a group of daredevil gunmen opened fire on worshippers.
The funeral mass began at 10:00 am after the caskets bearing the bodies of the deceased were brought in.
The venue of the mass, Mydas Resort, Owo, was filled to capacity with Governor Oluwarotimi Akeredolu in attendance with other top personalities. Among the attendees were Catholic priests and top sympatizers.Speaking during the service, Mr Akeredolu reiterated his administration's commitment to the safety of lives and property of residents.
The governor, while condemning the attack, called for the immediate restructure of the country's security architecture.
The governor announced that the mass burial planned for the victims had been cancelled because some of the victims had been buried, as their families could not wait for the funeral.