Former Aviation minister reacts to the death of Anambra Legislator Okechukwu Okoye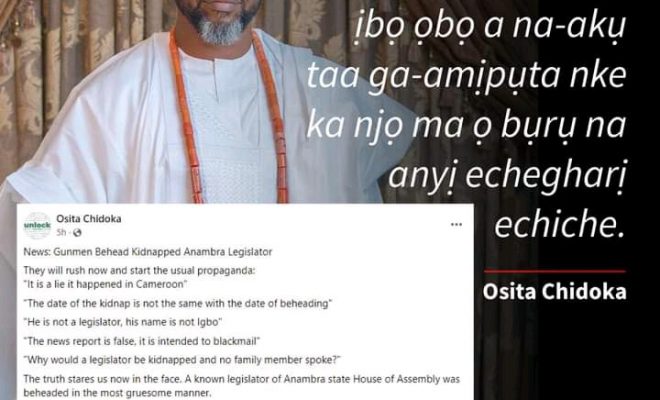 Politician and former minister of Aviation, Osita Chidoka, recently had this to say on the alleged beheading of Anambra Legislator Okechukwu Okoye. Okoye was claimed to be beheaded by the pro-Biafran Unknown Gunmen group.
They will rush now and start the usual propaganda:
"It is a lie it happened in Cameroon"
"The date of the kidnap is not the same with the date of beheading"
"He is not a legislator, his name is not Igbo"
"The news report is false, it is intended to blackmail"
"Why would a legislator be kidnapped and no family member spoke?"
The truth stares us now in the face. A known legislator of Anambra state House of Assembly was beheaded in the most gruesome manner.
Conspiracy theories, more excuses…it is coming closer and closer
Defenders of the universe: Go ahead and explain this one
Evil is spreading fast, who next? Seeds of hatred and vengeance are being sown today. It will germinate and spew more hate if we dont change course and make amends.
May the soul of the departed find mercy and may God intervene in our affairs to stop the hate and fear-mongering. Amen.