Okada ban: Police clash with riders, seize 200 bikes as Lagos vows more raids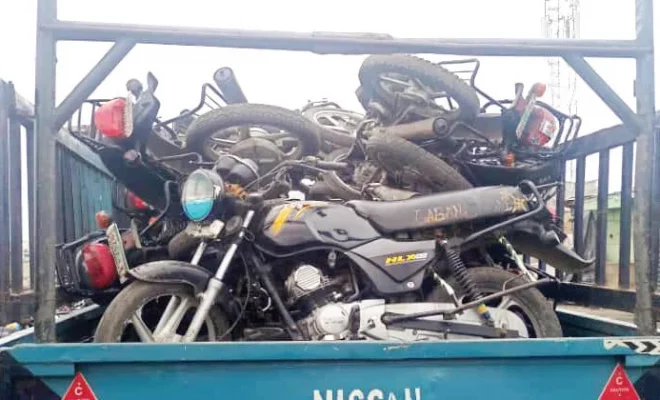 There was pandemonium on Thursday as policemen and motorcycle riders clashed in Iyana Iba, Alaba, Agric, Barracks ends the Lagos-Badagry Expressway, Lagos State.
It was gathered that the clash started after men of the Lagos State Environmental and Special Offences Enforcement Unit (Task Force) and the Rapid Response Squad visited the areas to enforce the state traffic law.
The operatives were said to have seized motorcycles along the expressway and also issued a notice to occupants at the Alaba Rago Market to vacate the premises.
The Lagos State Public Relations Officer, Benjamin Hundeyin, said over 200 motorcycles were impounded by the police during the raid.
He said, "There was no clash, no casualty, nobody injured. Police impounded over 200 motorcycles and as expected some of the motorcycle riders were unruly and confrontational but nothing degenerated into a clash.
"The motorcyclists were just resisting the impoundment of their motorcycles. Before the current ban, there has been an existing ban".
During another enforcement operation in the Lekki area of the state, taskforce officials said no fewer than 115 motorcycles were impounded.
The chairman of the agency, CSP Shola Jejeloye, who was quoted in a statement, said the operation would be continuous.
"We will make sure that their activities are curtailed till they abide by the rules. They will never be above the law no matter how large their numbers are", he added.
It was gathered that the operation, tagged, "Operation Kogberegbe", followed the recent lynching of a sound engineer, David Sunday by suspected motorcyclists who attacked him and his colleagues, Frank and Philip, among others, on Admiralty Way, Lekki.
The Chairman, Lekki Phase 1 Residents Association, Yomi Idowu, described the killing as dastardly, animalistic and senseless".
"We in Lekki Phase 1 cannot risk the lives of our people further. We are therefore, taking proactive measures by banning the activities of Okada riders with immediate effect. We choose to live and say no to Okada on our roads and inner streets".