Tinubu behind Sanwo Olu, GAC insists as controversy surrounds second term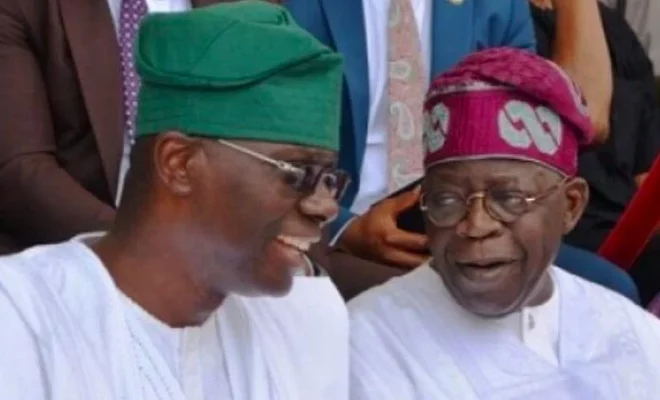 Controversy has surrounded the second term bid of Lagos State Governor, Babajide Sanwo-Olu.
While the Governor's Advisory Council maintained that it had cleared Sanwo-Olu to return in 2023, it is not clear whether or not, the national leader of the All Progressive Congress, Asiwaju Bola Tinubu, has endorsed the governor's second term bid.
However, GAC member, 85 year old Prince Tajudeen Olusi and APC Chairman in Lagos, Cornelius Ojelabi, on Thursday noted that Sanwo Olu had GAC's support to return to office.
The GAC, the highest decision making organ of the party headed by Tinubu, had mid-April endorsed Sanwo-Olu for second term.
Olusi said, "All members of GAC are happy with Sanwo-Olu's first term performance and we support his return for second term.
"A lot of members have also filled a form endorsing Sanwo-Olu's second term bid. Tinubu also signed the form. Any other thing is untrue".
On his part, the state chairman of APC, Ojelabi, said, though the party did not have a consensus candidate yet, no other aspirant aside from Sanwo-Olu had picked up APC governorship form for Lagos.
Ojelabi said, "We don't have a candidate yet. I only know that Governor Sanwo-Olu has obtained his nomination form. I have not seen any other person that has obtained form from Lagos State.
"The GAC made a statement that they have endorsed Sanwo-Olu for second term and they have not changed that. Asiwaju is part of the GAC".
But, Lagos State Commissioner for information, Gbenga Omotoso said that the reports making the rounds were so because of what happened to Ambode in 2019.
Omotoso said, "Asiwaju is a member if the GAC, and GAC, about two weeks ago, endorsed Mr. Governor. What is going around is mischief.
"People are talking about this because of what happened during Mr. Abode's tenure but that should not make them give Asiwaju the name that he doesn't bear. I think, it is not fair to the man. The GAC has spoken.
A source close to Sanwo-Olu accused Ambode's camp of peddling falsehood.
The source said, "Tinubu has no problem with Sanwo-Olu. They were still together in Abuja days ago when their nomination a nd expression of interest forms were presented  to them individually. It is Ambode's people that are peddling falsehood".