Nigerian Begins 25-Day Bike Ride From London To Lagos For Charity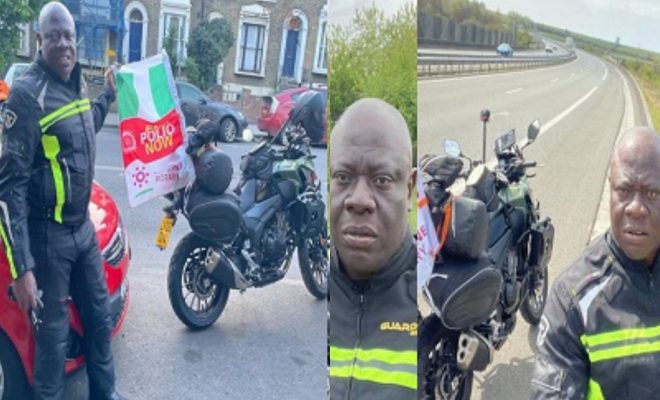 A London-based Nigerian Kunle Adeyanju has commenced a cross-country charity ride from London to Lagos on a motorbike.
He made the announcement in a post on Twitter, noting that the trip is expected to last for 25 days and cover 12,000km.
Kunle gave a rundown of how he would criss-cross 14 countries with the ride starting from London, through France, Spain, Morocco, Senegal, Mali, Ghana and Lagos, Nigeria.
According to him, the funds raised during the course of the charity ride will be dedicated to primary healthcare, polio plus project, water and sanitation.
This feat has once been broken by Chief Newton Jibunor, a renowned environmentalist who drove famously alone from London, UK to Nigeria, through the Sahara desert in 1966 at 27.
Kunle said: "I commenced the London – Lagos Charity Ride today April the 19th, 2022. The ride is expected to last 25days, spanning a total distance of about 12,000km.
"The ride will traverse London – France – Spain – Gibraltar – Morocco – Western Sahara – Mauritania – St Louis – Senegal – Gambia – Mali – Cote d'Ivoire – Ghana – Togo – Benin – Lagos.
"Day 1 of the Charity Ride involves riding from London to Dover, where I went on a ferry to cross the English Channel to Calais France and then ride to Borges France, my stop point for the day. Total ride distance for day 1 is to be about 745km.
"Pls be reminded that we have started receiving your support for this noble charity cause 100% of fundraised will be channelled to Primary Health, Water & Sanitation, PolioPlus project. Particularly 20% of fundraised will be targeted to support the fight to sustain Africa Polio free status.
"Our target is N20m, pls join hands with me and support this noble initiative massively. And personally, I will be giving a 10% match grant for every donation."