David Beckham gifts his newlywed son a $500k Jaguar on their wedding day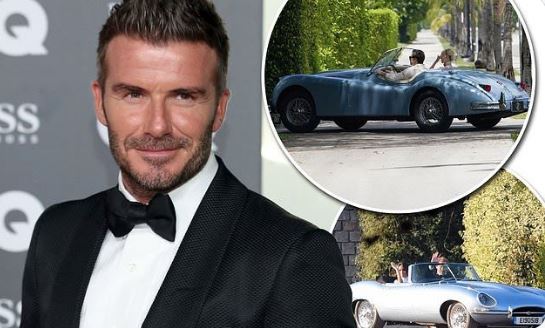 David Beckham presented his son Brooklyn and daughter-in-law Nicola Peltz with a $500,000 classic Jaguar after they got married at her billionaire father Nelson's family compound in Palm Beach, Florida on Saturday.
The former English footballer, 46, is an investor of restoration company Lunaz which electrified and re-engineered the 1954 Jaguar XK140, having taken a a 10 percent stake in June 2021.

He was pictured taking the vehicle out for a spin with his wife Victoria, 47, on Sunday morning before handing it over to the newlyweds. Beckham, the InterMiami FC president requested for the car to be painted a light blue, however asked that his name for the unique colour would remain confidential.
Brooklyn and Nicola were pictured for the first time since their $3.5m wedding as they hopped into their show-stopping new present. The aspiring chef, 23, wore a relaxed cream sweater while his wife, 27, tied her blonde locks into a ponytail with a white ribbon just one day after getting hitched at her father Nelson's $103m Florida compound.