Pero Osaiyemi celebrates son as he clocks 10…2baba and Annie shun his birthday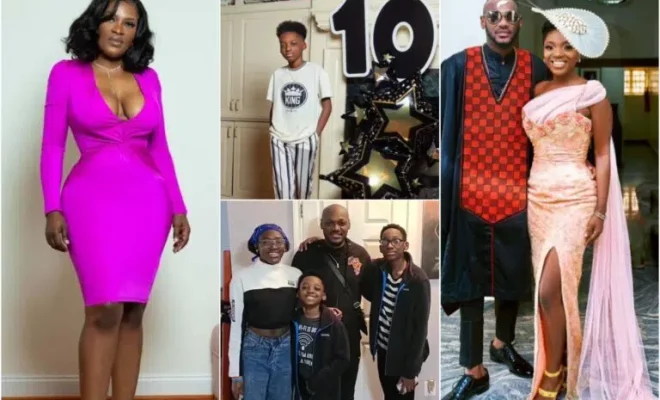 The second babymama of legendary singer 2baba Idibia, Pero Osaiyemi has showered her first son with love as he clocks the big 10.
Innocent Idibia jnr, the second child of Pero and 2baba Idibia clocks 10 today, April 8 and his mother celebrated him in style.
Taking to her Instagram page, Pero described him as her heartbeat, her peace, her joy, and her comfort.
She stated that she must have done something right for God to have blessed her with him.
Appreciating God for blessing her with a son like him, she rained prayers on him.
"My Heartbeat is 10! How great is My God!! Ona ope mi po!!! Olaoluwakita Innocent, My Joy, My peace, I thank God for your life, My comfort, I must have done something right for God to have blessed me with you, words can't express my gratitude for such loving sin always making me proud! Loved by all the way o. The Lord will never depart from you, your destiny will never be cut short, you are for signs and wonders, no evil shall come near your dwelling, God's own! Future POTUS! Nations will bow to you, your name shall forever be mentioned among rulers of this world. You will live long and prosper in perfect health. It is settled. Happy 10th Birthday my darling! Love you soooooo much oko mi!!???".
Meanwhile, his father, 2baba Idibia and step mother, Annie Idibia have completely ignored his birthday.
At the time of reporting, Friday April 8, 2022 at 4:00pm, neither 2face nor Annie Idibia have publicly acknowledged his birthday.
This is a surprise to many as 2baba as always publicly celebrated his kids birthday. A look at their Instagram pages shows the couple have been very active on the photo sharing app.
Flormedia recalls Pero Osayemi had shared a video of herself and her kids which many believed was a shade at Annie Idibia.
Her post came hours after Annie Idibia broke down in tears during an interview with Casts of Young Famous and African. She spoke expressly about how embarrassing it was that her husband had five other kids with two women.
Taking to her Instagram page to react, Pero shared a sweet video of herself and her kids in an elevator.