Russia-Ukraine war: Stranded Nigerians send SOS to Buhari, demand evacuation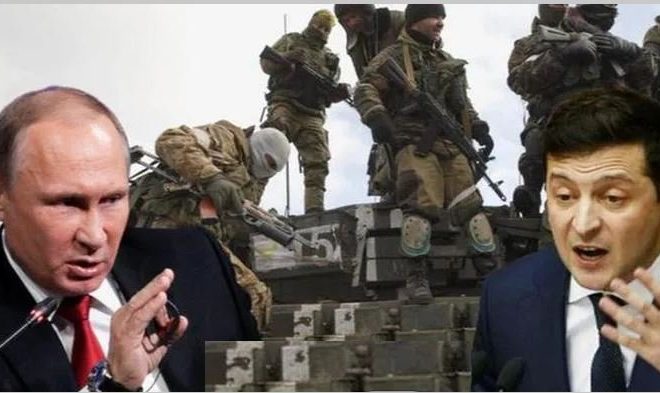 Several Nigerians- mostly students, who are in Ukraine are currently stranded even as Russia continues to attack the Eastern European nation.
This is as the National Association of Nigerian Students in Ukraine sent out a Save Our Soul message to the president, Muhammadu Buhari, seeking immediate evacuation from Ukraine.
In a letter to the president, titled, "Matter of Urgency, Letter of Request to the President", Muhammadu Buhari, on Thursday, the students said the cities occupied by Nigerians were under attack.
Eleaka, who has found her way out of Ukraine said many others were stuck because of the cost of the flight ticket.
She called on Nigeria to come up with a proper evacuation strategy like India.
Eleaka said, "I left before the invasion. The news on possible invasion has been out there for a while now. My parents got really worried and got me a flight ticket to return back home.
"I'm sure students really wanted to leave too but the flight tickets got really expensive and the need to leave then seemed impromptu. I heard some cities still had their classes offline but we were ensuring every school goes online.
Earlier, on Thursday, the Federal Government expressed shock over the invasion of Ukraine by Russia.
The government also assured Nigerians living in Ukraine of their safety, stating that measures are underway to evacuate Nigerians living in the country.
The Nigerian embassy in Kiev have been contacted to arrange for those wishing to return home from other areas including Donestk and Luhensk.
"Nigerians are assured that the ministry is following the event in the country, we would do everything for the safety of Nigerians in Ukraine, particularly students".
But a former Director-General of the Nigerian Institute of International Affairs, Prof. Bola Akinterinwa, wondered why the government had to wait so late to evacuate its citizens.
He added that the only option left was for Nigerians in the country to be evacuated by road.
"And if nothing positive comes out of it, then we should liaise with Chairman of Air Peace, (Allen Onyema). Whatever it is going to cost the House, you need to leave this country, at the latest tomorrow, and come back on Monday with many of our students".