Two policemen, motorcyclist killed as gunmen attack bullion van in Oyo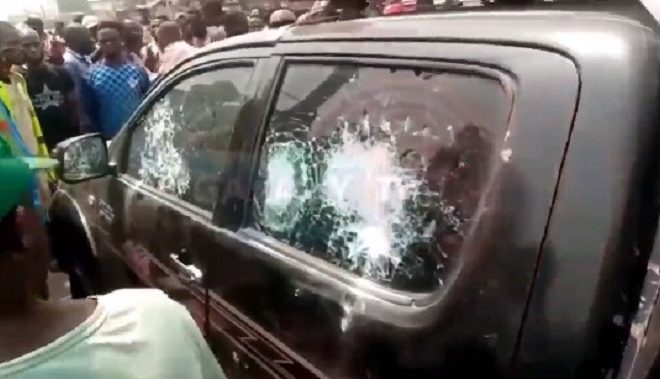 Two policemen and a civilian have been confirmed dead after armed robbers attacked a bullion van conveying money from a bank on Iwo Road to the Idi Ape area of Ibadan, Oyo State.
It was gathered that one of the hoodlums was also killed during a shootout with the police.
The incident happened around 1.35pm on Thursday in the Idi Ape area, where the robbers reportedly waylaid the bullion van.
Eyewitnesses said that the bullion van was heading towards the Gate area of Ibadan when the armed hoodlums, who were in a Toyota Sienna, overtook the van and opened fire on the occupants and the police escorts.
One of the victims reportedly killed an Okada rider who was oblivious of the mission of the occupants of the Sienna.
The commercial motorcyclists who was said to be in a hurry, reportedly attempted to overtake the hoodlums' vehicle when he was shot dead by the robbers.
But some residents also said the escorts engaged the robbers in a shootout, adding that the hoodlums outnumbered the operatives and killed two of them.
Some motorists, who were unlucky to be at the scene, reportedly sustained gunshot injuries.
A resident said the robbers carted away huge amounts of money from the bullion van.
"Some lives were lost, including innocent persons. I saw two policemen on the ground after the armed robbers left. Two of them died and one was seriously wounded. Some persons were also injured in their vehicles and those who managed to escape from their vehicles hid inside the drainage.
"There was blood everywhere and people were weeping as residents trooped out to rush the victims to the hospital".
The State Commissioner of Police, Ngozi Onadeko, described the attack as a coordinated one.
Later, the CP, in a statement, confirmed that three persons, including two policemen were killed.
"In a swift response, the police equally neutralized one of the armed robbers, while some were believe to have escaped with multiple gunshot injuries.
"Consequently, a civilian onlooker, was hit by a stray billet and died at the scene, while two police officers later died at the hospital as a result of gunshot injuries. Four others, including two police officers, were responding to treatment.
"The citizenry are hereby enjoined not to panic as efforts are in top gear to track down and apprehend the criminal gang"